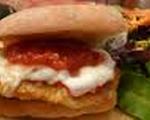 Recipe created by ChefMom on

Nov 24, 2010
View more recipes by ChefMom.
Prep: –
Cook Time: 40 min
Total: 40 min
Serving: 2-4 People
Juicy chicken enrobed in a spicy breading, flavorful marinara, ooey gooey cheese, nestled in a chewy roll doesn't sound either fast and easy or a healthy diet pick. Yet, with a few timesaving tips and wholesome modifications in the following chicken parmigiana sandwich recipe, you can quickly sink your teeth into this yummy dish guilt-free.
Ingredients
1/2 cup almond flour
1 cup whole wheat bread crumbs
1/2 teaspoon salt
Freshly ground black pepper to taste
1 teaspoon dried oregano
Pinch of cayenne or more to taste
2 eggs
4 small boneless, skinless chicken breasts, pounded to an even thickness
1 1/2 cups spicy marinara sauce of your choice
4 thin slices mozzarella or provolone cheese
4 whole grain ciabatta rolls, split
Directions
Preheat oven to 350 degrees F and spray a baking sheet with cooking spray.
Whisk together flour, crumbs, salt, black pepper, oregano, and cayenne in a shallow dish. In a second shallow dish, whisk together eggs.
Dredge chicken breasts in eggs then flour mixture, coating well, and place on prepared baking sheet. Bake for 25 minutes, or until chicken is just cooked through and coating is lightly browned.
Pour half of the marinara in a 11 x 7-inch baking dish and place chicken in sauce. Pour remaining sauce over chicken and top each with a slice of cheese. Bake for another 15 minutes.
Toast ciabatta rolls, if desired, and place bottoms of rolls on a serving platter. Use a spatula to lift chicken out of baking dish and set on rolls. Arrange tops of rolls on chicken and serve immediately.
Breading and baking the chicken breasts instead of pan frying them in oil saves on calories and fat. Choosing almond flour, whole wheat bread crumbs, and whole grain ciabatta rolls gives these sandwiches a healthy edge by adding fiber, B-vitamins, vitamin E, and other essential nutrients.
---