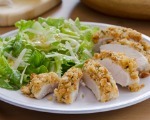 Recipe created by ChefMom on

Oct 4, 2011
View more recipes by ChefMom.
Prep: 10 min
Cook Time: 20 min
Total: 30 min
Serving: 4 servings
Also terrific with Hellmann's® or Best Foods® Light or Canola Cholesterol Free Mayonnaise.
TIP: Don't feel like chopping? Use 1/4 teaspoon garlic powder instead of chopped garlic.
Ingredients
1/2 cup Hellmann's® or Best Foods® Real Mayonnaise
1/4 cup grated Parmesan cheese
1-1/2 teaspoon Dijon mustard
1 teaspoon lemon juice
1 clove garlic, finely chopped
4 boneless, skinless chicken breast halves (about 1-1/4 pounds)
1/2 cup Italian seasoned or garlic croutons, finely crushed
4 cups mixed salad greens
1/4 cup Wish-Bone Light® Italian Dressing
Directions
Preheat oven to 425 degrees Fahrenheit.
Combine Hellmann's® or Best Foods® Real Mayonnaise, cheese, mustard, lemon juice and garlic in medium bowl. Arrange chicken on baking sheet. Evenly top with mayonnaise mixture, then sprinkle with crouton crumbs.
Bake 20 minutes or until chicken is thoroughly cooked. Serve with mixed salad greens drizzled with Wish-Bone® Italian Dressing.
---