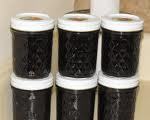 Recipe created by ChefMom on

Nov 24, 2010
View more recipes by ChefMom.
Prep: –
Cook Time: 30 min
Total: 30 min
Serving: Makes 5, 8-ounce jars
Particularly palate-pleasing when slathered on a chicken sandwich, this spicy blackberry jam is easily made in batches and saves you time because it is preserved in the freezer rather than with the time-consuming stovetop canning method.
Ingredients
1, 1.59-ounce package freezer jam fruit pectin
1 1/2 cups granulated sugar
4 cups crushed blackberries
1 teaspoon ground cinnamon
1/2 teaspoon freshly ground nutmeg
1/4 teaspoon ground cardamom
Juice and grated zest of 1 small lemon
5. 8-ounce plastic freezer jars
Directions
In a large bowl, stir together pectin and sugar.
Add blackberries, cinnamon, nutmeg, cardamom, lemon juice and lemon zest to sugar and stir until well combined, further crushing blackberries.
Using a funnel, ladle jam into freezer jars to fill line. Twist on lids. Let stand for 30 minutes, or until thickened. Keep 1 jar in the refrigerator for immediate use and place the other 4 jars in the freezer for up to one year (to thaw, simply place in the refrigerator overnight).
---