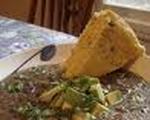 Recipe created by ChefMom on

Nov 24, 2010
View more recipes by ChefMom.
Prep: –
Cook Time: 20 min
Total: 20 min
Serving: 4-6 People
This black bean soup and cornbread should feed 6 people, making it a cheap dinner that tastes delicious. Purchase store brand or discounted ingredients for a meal price totaling less than six dollars—a perfect $1 dinner idea.
Ingredients
Inexpensive box of cornbread mix, choose one that only calls for water
2, 15-ounce cans of black beans
1, 15-ounce can of chicken broth
1 onion
2-ounces shredded cheddar cheese (optional)
Fresh salsa (optional)
Sour cream (optional)
Garlic (to taste)
Salt (to taste)
Cumin (to taste)
Cooking oil
Directions
Make cornbread according to instructions on the box of cornbread mix; consider making muffins instead of traditional cornbread – this will more obviously separate servings and make your mix go further.
Heat oil in a large pot over medium heat.
Dice onions and add garlic, salt, and cumin to the pan.
Add 1 can of black beans and the can of chicken broth to the pot, stirring thoroughly.
Let the mixture heat and simmer for about 20 minutes, stirring frequently.
Turn off heat and use a hand mixer to blend the mixture into a creamier texture.
Add the second can of black beans to the pot and heat over medium-high heat, stirring regularly.
Serve black bean soup and cornbread, providing sour cream, salsa, and cheese as optional toppings.
---