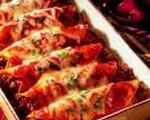 Recipe created by ChefMom on

Nov 23, 2010
View more recipes by ChefMom.
Prep: –
Cook Time: 35 min
Total: 35 min
Serving: 4-6 People
Take a food trip south of the border with this delicious recipe for beef enchiladas.
Ingredients
1 tablespoon olive oil
1 pound extra lean ground beef
1 tablespoon chipotle in adobo sauce
1 teaspoon ground cumin
1 teaspoon ground coriander
Salt and freshly ground black pepper
1 onion, finely chopped
3 cloves garlic, minced
1, 15-ounce can fire roasted tomatoes
1, 7-ounce can diced green chilies
1/4 cup chopped fresh cilantro
1 can red enchilada sauce
1/2 cup light sour cream
1 1/2 cups shredded Monterey Jack cheese, divided
8 to 10 high fiber flour tortillas
Directions
Preheat oven to 350 degrees F and grease an 11 x 7-inch baking dish.
Heat oil in a large skillet over medium high heat; add beef, chipotle, cumin, coriander, salt, pepper, and onion; cook, stirring often, until beef is browned and onions are softened.
Add tomatoes, chilies, and cilantro, stirring to combine; cook for 2 to 3 minutes then remove from heat.
In a second skillet, heat enchilada sauce over low heat. Stir sour cream and 1/2 cup cheese into beef mixture.
Dip a tortilla in enchilada sauce, coating both sides and allow excess to drip off. Lay tortilla at one short edge of the baking dish and fill with beef mixture. Roll tortilla around filling and arrange seam-side down against the edge of the dish. Repeat with remaining tortillas and beef mixture, arranging filled tortillas snugly side by side.
Pour remaining sauce over filled tortillas and sprinkle with cheese. Spray one side of a piece of aluminum foil with cooking spray and cover baking dish sprayed side down. Bake for 20 minutes, uncover dish, and bake another 10 to 15 minutes, or until cheese is lightly browned.
---