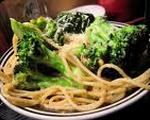 Prep: –
Cook Time: 30 min
Total: 30 min
Serving: 6-8 People
Baked pasta dishes always hit the comfort food spot more readily than a plate of loose noodles. Whole wheat pasta, broccoli and tender chunks of roasted tomatoes give this vegetarian casserole a heartiness that even meat-lovers will enjoy. Bonus: Freeze the leftovers in individual serving containers for a fast lunch.
Ingredients
8-ounces broccoli florets
1 pound whole wheat penne
1 tablespoon olive oil
1 onion, chopped
3 garlic cloves, minced
1, 28-ounce can fire roasted diced tomatoes, drained
1/2 cup red wine
Salt and freshly ground black pepper to taste
3/4 cup pesto
3/4 cups shredded fontina
1/4 cup grated Parmesan
Directions
Preheat oven to 400 degrees F. Spray a 13 x 9-inch baking dish or aluminum pan with cooking spray.
Bring a large pot of salted water to a boil. Add broccoli and cook just until broccoli is tender. Use a slotted spoon to transfer broccoli to a cutting board and coarsely chop. Set aside. Add pasta to the boiling water and cook for 2 to 3 minutes less than package directions (pasta will continue to cook in the oven). Drain and set aside.
Heat oil in a large pot over medium heat. Add onion and cook, stirring often, until onion is softened. Add garlic and cook, stirring, for 1 minute.
Stir in tomatoes, wine, salt, and pepper. Bring to a simmer and allow to cook for 5 to 6 minutes, or until almost all of the liquid evaporates. Stir in broccoli and pesto and remove from heat. Toss pasta with sauce and cheese.
Pour pasta into prepared baking dish and bake for 15 minutes, or until lightly browned on top.
---