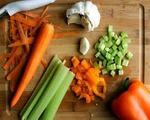 Recipe created by ChefMom on

Nov 28, 2010
View more recipes by ChefMom.
Prep: 10 min
Cook Time: 30 min
Total: 40 min
Serving: 4
Asian Oven Pancake is a delicious take on traditional Asian cuisine with stir fried vegetables coated in teriyaki sauce and served over a puffy, oven baked pancake.
Ingredients
1/3 cup water
2 tablespoons butter
1/2 cup Bisquick
2 eggs
1 tablespoon vegetable oil
1/ cup sliced celery
1/2 cup sliced carrot
1/3 cup red bell pepper strips
1/2 cup bean sprouts
1/3 cup sliced mushrooms
2 green onions, sliced
8 ounces bamboo shoots, drained
1 clove garlic
1/4 cup thick teriyaki sauce
1/4 cup cashew halves
Directions
Bring water and butter to a boil in a pan. Reduce heat and add Bisquick and stir quickly until a ball forms. Set aside.
Begin adding eggs, one at a time, and beating to glaze dough.
Press into heavily greased pie plate and bake at 400 degrees Fahrenheit for 20-25 minutes.
While pancake is cooking, begin frying vegetables in a large skillet with oil. Add celery, carrot, and bell pepper first. Then, after 2 minutes, add bean sprouts, mushrooms, onions, bamboo shoots, and minced garlic.
When tender, mix in teriyaki sauce. Spoon over pancake and top with cashews before serving.
---