Pumpkin cheesecake French toast sticks
French toast sticks, not just for high school cafeterias anymore. These fluffy, thick sticks aren't just loaded with pumpkin flavor — they're filled with cream cheese frosting! Every single bite tastes just like a piece of pumpkin cheesecake. And the best part? You can have these for breakfast!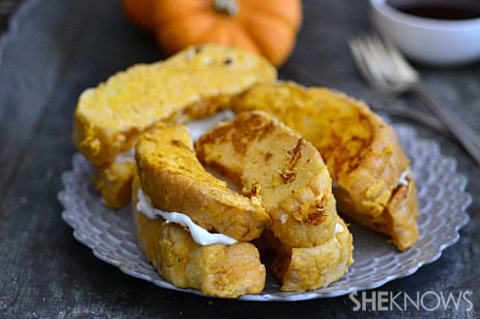 Yes, I'm totally advocating cheesecake for breakfast. How else will you manage to get your kids to eat anything before school? These sticks are perfect for little hands and will finally get your kids to eat something other than Froot Loops. A total win in my book.
Pumpkin cheesecake French toast sticks recipe
Adapted from Sweet Treats More
Serves about 8
Ingredients:
1/2 loaf Italian bread
3 tablespoons pumpkin puree
2 large eggs
1/2 cup heavy cream
1/2 teaspoon pumpkin pie spice
2 tablespoons butter
Maple syrup for dipping
For the filling
2 ounces cream cheese
2 ounces unsalted butter, softened
1 cup powdered sugar
1/2 teaspoon vanilla extract
Directions:
Grease a nonstick skillet with butter and heat over medium-high heat.
Cut the bread into slices and then in half again.
In a large bowl, whisk the pumpkin puree, eggs, cream and pumpkin pie spice. Stir to combine. Dip the bread slices liberally into the pumpkin mix and place on the hot skillet.
Cook until browned, about 6 to 8 minutes (3 to 4 minutes on each side).
To make the filling, beat the cream cheese, butter, sugar and vanilla extract in a mixing bowl until smooth and thick.
Spread about 1 tablespoon of filling over the top of half of the sticks. Top with another stick and serve with maple syrup.
More pumpkin breakfast recipes
Jack-o'-lantern pumpkins
Pumpkin muffins
Pumpkin spice pancakes