Curried chickpeas and coconut rice
Curried chickpeas and coconut rice come together in about 20 minutes flat, but tastes like it's been cooking for hours.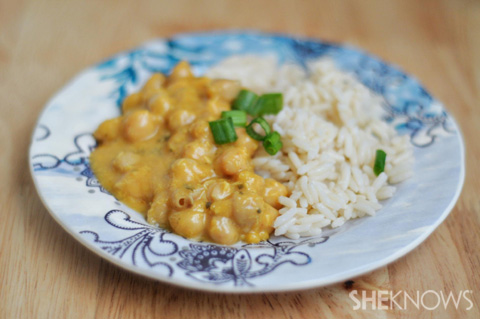 Curried chickpeas and coconut rice recipe
Serves 4
Ingredients:
1 (14 ounce) can chickpeas, rinsed and drained
1 tablespoon coconut oil
1/2 cup chopped white onion
1 (14 ounce) can full-fat coconut milk
2 cloves garlic, minced
1 tablespoon fresh grated ginger
1-1/2 tablespoons red curry paste
1/2 teaspoon salt
1/4 teaspoon black pepper
1 cup long grain white rice
1-1/2 cups light coconut milk
1/2 cup water
Pinch of salt
Directions:
Heat a large skillet over medium heat.
While the skillet is heating, combine the rice, light coconut milk, water and pinch of salt in a small saucepan.
Bring to a boil, then reduce heat and simmer for 20 minutes, or until the liquid is absorbed.
While the rice is cooking, melt the coconut oil in the hot skillet.
Add the onions, garlic and chickpeas and saute for about 5 to 7 minutes or until the onions are soft.
Add the can of full-fat coconut milk, grated ginger, red curry paste, salt and black pepper.
Bring to a simmer and cook for about 10 minutes until the onions and garlic are completely cooked through.
Serve hot with the chickpeas atop the rice.
More favorite curry recipes