Pumpkin quinoa and oats
Pumpkin quinoa and oats are a great way to pack in protein, fiber and veggies during the first meal of the day. Mix up the dry ingredients and portion out throughout the week for a breakfast that keeps on giving.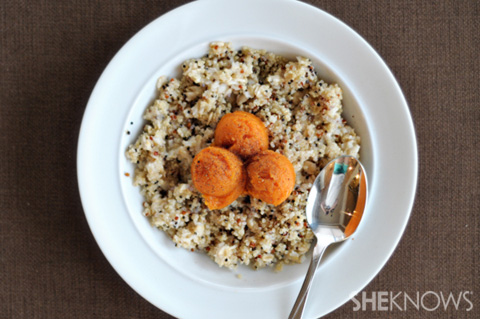 Pumpkin quinoa and oats recipe
Serves 1
Ingredients:
1/4 cup old-fashioned rolled oatmeal
1/4 cup dried quinoa
1/2 ripe banana, mashed
1 cup milk of choice
1/4 cup pumpkin puree
1 tablespoon honey
1/2 teaspoon pumpkin pie spice
Directions:
In a small pot, add the dried quinoa, mashed banana and milk and bring to a simmer.
Stirring frequently, simmer the quinoa for about 10 minutes.
Add the oatmeal and cook another 2 to 5 minutes until the oats and quinoa are tender and the liquid is evaporated.
Stir in the vanilla.
In a small bowl, stir together the pumpkin, honey and pumpkin pie spice.
Serve atop the hot oat mixture or stir in and serve hot.
More amazing oatmeal recipes
Oatmeal blackberry breakfast pie
Easy carrot cake oatmeal
Oatmeal brûlée