Wild mushroom galette
Wild mushroom galette brings the fancy back to the dinner table. Use store-bought pie crust dough and fresh wild mushrooms for a hearty meal.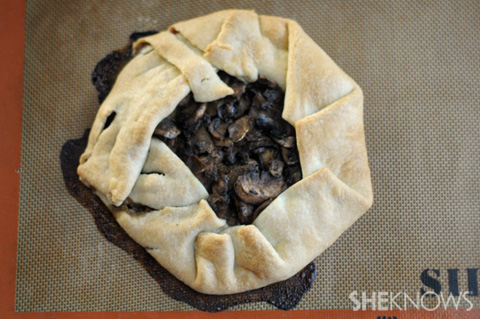 Wild mushroom galette
Serve 4
Ingredients:
1 store-bought pie dough crust, thawed for 15 minutes and unrolled
14 ounces wild mushrooms
2 tablespoons butter
1/4 cup dry white wine
1 teaspoon salt
1/4 teaspoon black pepper
1 clove garlic, pasted
4 ounces provolone cheese, sliced thinly
Directions:
Preheat oven to 400 degrees F.
Line a baking sheet with parchment paper or a silicone baking mat. Place the dough in the center of the baking sheet and set aside.
Heat a large skillet over medium heat for 5 minutes.
Add the butter and mushrooms and cook for 3 to 5 minutes, stirring constantly.
Add the white wine and cook until all of the liquid is evaporated.
Remove from the heat and stir in the salt, pepper and pasted garlic.
Place the sliced provolone cheese in an even layer in the middle of the pie crust, leaving a 2-inch border of pie crust.
Place the mushrooms in an even layer on top of the cheese.
Rustically fold the crust over the mushrooms and cheese.
Bake at 400 degrees F for 25 to 40 minutes until the crust is golden brown.
Remove from the oven and serve hot.
More galette recipes that impress
Strawberry and peach galette
Sweet potato and cherry galette
Rustic vegetable galette