White chocolate Halloween bark
Melted white chocolate is topped with assorted Halloween candy and broken into pieces for this fun holiday-inspired treat.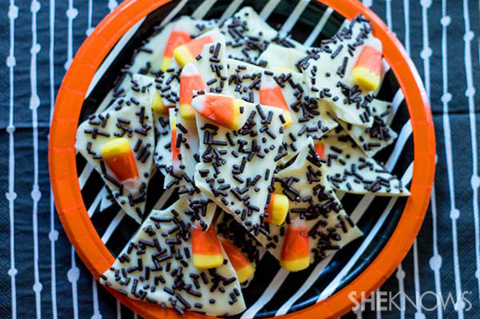 This simple yet tasty candy treat is perfect for an upcoming Halloween party, as a gift or just to enjoy as a quick dessert. White chocolate candy melts, which you can find at most grocery stores, are melted and topped with all of your favorite Halloween candies. This is a quick and simple idea and one that is also great for inviting your kids into the kitchen to create.
White chocolate Halloween bark recipe
Melted white chocolate is topped with various Halloween candies. Once cooled, break the bark into pieces of desired size. Perfect for sharing or for a cute Halloween party treat.
Prep time: 15 minutes | Cooling time: 60 minutes | Total time: 1 hour 15 minutes
Yields about 12 servings
Ingredients:
2 cups white chocolate candy melts
1 cup candy corn
Chocolate sprinkles
Directions:
Line a baking sheet with wax paper.
Melt the chocolate candy melts as instructed on the package.
Once completely melted, pour the candy melts onto the baking sheet.
Using a spatula, evenly spread out the melted chocolate.
Top with candy corn and the chocolate sprinkles.
Allow the candy to cool on the counter for about 1 hour.
Once cooled break the bark into desired shapes.
Store the bark in an airtight container for up to 5 days.
More Halloween recipes
Chicken Caesar salad-stuffed pumpkin faces
17 Halloween recipes to impress kids
Broken glass cupcakes