Grain-free apple-cranberry muffins
Moist and full of apples and real cranberries, these grain-free muffins are a healthy start to the day or snack.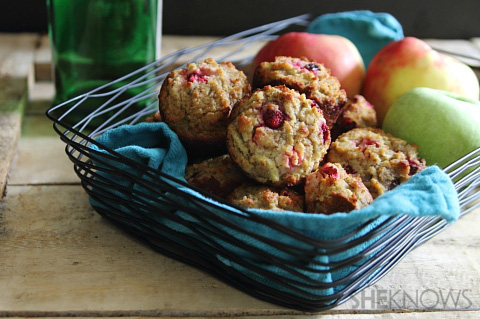 Apples and cranberries are one of my favorite fall combinations. I know everyone is always stuck on pumpkin but there's something even better about the tart cranberry taste combined with a crisp and sweet apple that beats out pumpkin any day in my book. These muffins combine both flavors in a grain-free treat you can have for breakfast or as a snack. They're a protein-packed bite from the nut flours and a healthy way to enjoy the seasonal flavors.
Grain-free apple-cranberry muffins recipe
Yields 12
Ingredients:
1-1/2 cups almond flour
1/3 cup coconut flour
1/2 teaspoon baking soda
1/8 teaspoon kosher salt
3 eggs
1 teaspoon vanilla extract
3 tablespoons honey
1/4 cup melted coconut oil
1/2 cup apple cider
1/2 cup grated apple
1 cup frozen cranberries
Directions:
Preheat oven to 350 degrees F.
Combine the flours, baking soda and salt in medium bowl and mix together. Set aside.
Whisk the eggs in a large bowl.
Add the vanilla, honey, coconut oil and apple cider and whisk again until incorporated.
Add the dry ingredients to the wet and stir a few times until roughly incorporated.
Add the apples and cranberries and fold into the batter.
Grease a muffin tin with baking spray and spoon the batter into the tins about 3/4 full.
Bake for 20 to 22 minutes until a toothpick inserted comes out clean and muffins are starting to brown around edges.
Let cool for 5 minutes before removing to a cooling rack.
More muffin recipes
Fabulous fruit cake muffins
Pumpkin muffins
Banana cocoa nib muffins