10-Minute pasta Alfredo
Ten-minute pasta Alfredo is ready in the few minutes it takes to boil the pasta itself! Creamy, dreamy and so good with a salad and lean protein.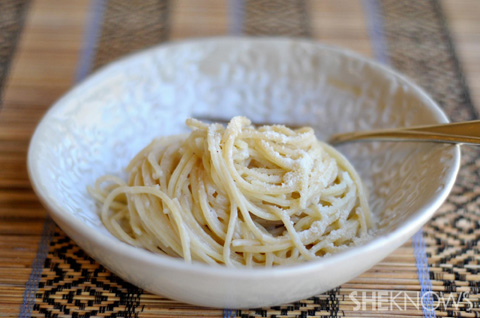 10-Minute pasta Alfredo recipe
Ingredients:
1 pound pasta of choice
1 cup milk
1-1/2 cups Parmesan cheese
2 tablespoons butter
1/2 teaspoon salt
1/2 teaspoon garlic powder
1/4 teaspoon black pepper
1/8 teaspoon ground nutmeg
Directions:
Bring a large pot of salted water to a boil and cook pasta according to package directions, about 8 to 10 minutes, until al dente.
While the pasta is cooking, heat the milk and butter over medium-low heat until small bubbles start to form around the edge.
Remove the milk mixture from the heat and whisk in the Parmesan cheese, salt, garlic powder, pepper and nutmeg.
Continue whisking until the Parmesan is totally melted and creates a sauce.
When the pasta is done cooking, drain and return to the hot pot.
Pour the Alfredo sauce over the pasta and toss to combine.
Serve hot.
More Alfredo recipes everyone will adore
Creamy cauliflower Alfredo sauce
Skinny roasted garlic tomato Alfredo
Vegan fettuccine Alfredo