Fried bologna club sandwich
Sometimes going back in time can yield a tasty meal. That's the case with this mile-high sandwich.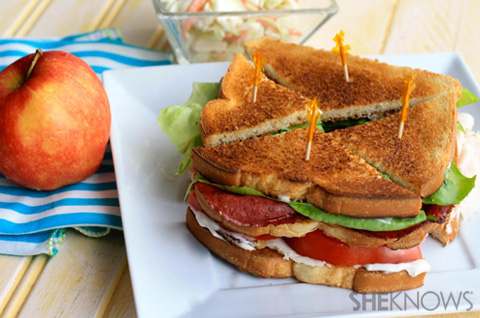 Fried bologna layered on a sandwich was a treat when I was a kid. I wanted to bring back some of that fun to a classic club sandwich.
Stretch your hands wide to wrap them around this tasty lunchtime sandwich. It's piled high with turkey, tomato, lettuce, cheese, and of course, fried bologna. Serve this sandwich with a side of coleslaw, apples or pickles for a traditional meal.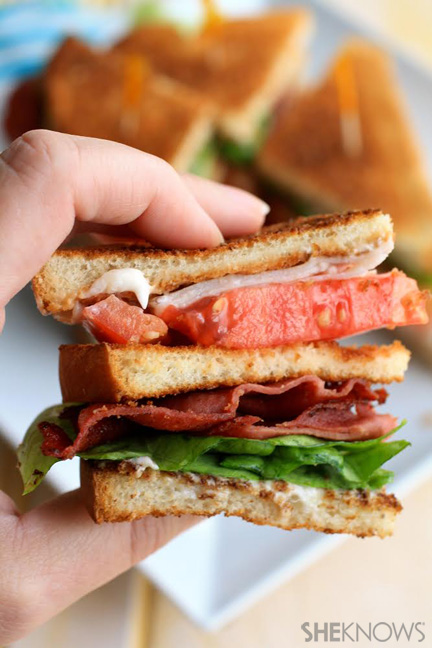 Fried bologna club sandwich recipe
Makes 1
Ingredients:
2 ounces deli bologna
2 ounces deli turkey
1 slice cheddar cheese
2 tablespoons mayonnaise, divided
1-2 large lettuce leaves, cleaned and dried
2 slices tomato
3 slices sandwich bread, toasted
Deli toothpicks
Directions:
Place a skillet over medium-low heat. When hot, add the bologna and cook for a few minutes, about 1 minute per side.
Remove from the skillet and blot with a paper towel.
Add 1 tablespoon of mayonnaise to 1 slice of the toasted bread. Place the cheese over the mayonnaise, followed by the turkey and tomato.
Add a second piece of toasted bread over the top of the first layer. Add the bologna to the top of the bread followed by the lettuce.
Add the remaining mayonnaise to 1 side of the last piece of toasted bread. Place the coated side down, on top of the lettuce.
Slice the sandwich diagonally in 1 direction, then again in the opposite direction so you have 4 triangular sections.
Add 1 toothpick into the center of each sandwich section.
Serve with your favorite side, like apple slices, coleslaw or pickles.
More lunch recipes
Peanut butter, strawberry and granola sandwiches
Greek pizza muffins
Waffle-grilled BLT