Fruity blueberry and veggie corn muffins
Sneak some veggies and fruit in for the day with these corn muffins.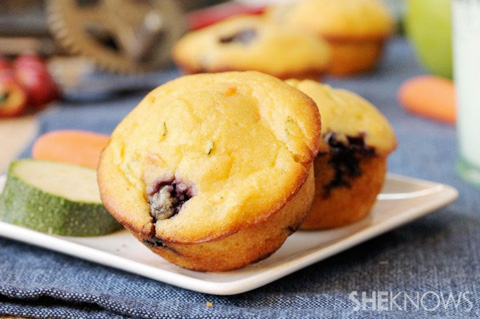 It's hard to believe that veggies and fruit are hiding out in these corn muffins. They taste so good that no one but the cook really needs to know what they're made of. The good news is now there's all the reason to have seconds when serving up these tasty treats because more fruits and veggies is a good thing right?
Fruity veggie and blueberry corn muffins recipe
Yields 12
Ingredients:
1 cup flour
3/4 cup masa harina (corn flour)
1/4 cup cornmeal
1/4 cup plus 1 tablespoon sugar
1 teaspoon salt
2-1/2 teaspoons baking powder
1-1/2 cups milk
2 eggs, beaten
1/4 cup canola oil
2 dashes ground cinnamon
3/4 cup blueberries
1/4 cup shredded zucchini
1/4 cup shredded carrots
1 Granny Smith apple, peeled, cored and shredded
1 tablespoon softened butter (for greasing pan)
Directions:
Preheat oven to 350 degrees F.
In a large mixing bowl, add the flour, masa harina, cornmeal, sugar, salt, baking powder, milk, eggs, canola oil and cinnamon.
Mix until a batter forms.
Using a large spoon or spatula, stir in the blueberries, zucchini, carrots and apple.
Grease the muffin pan with butter.
Ladle the batter into the muffin pan.
Bake in a preheated oven until a toothpick inserted in the middle of a muffin comes out clean (about 22 to 24 minutes).
Using a dinner knife, gently move it between the edges of each muffin and the pan. Carefully remove the muffins from the pan onto a rack and let cool.
More corn muffin recipes
Banana cornbread muffins with orange glaze
Corn dog muffins
Apple cinnamon cornbread