Italian sausage and marinara pastry bites
These yummies are as cute as they are delicious. Kids will love these because they're the perfect size for little hands. Oh and they taste good too.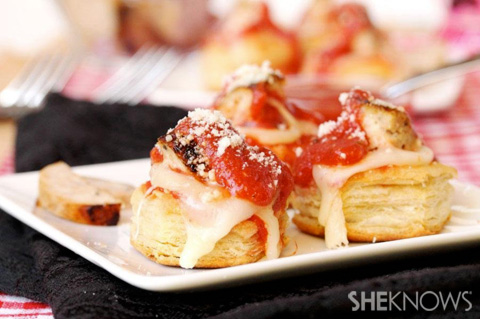 Not only are these little gems a great size for kids to eat, but they are also perfect for big kids, too. Like me for instance. I'm the first to admit that I have no trouble at all popping these in my mouth. Thank goodness the recipe yields 24 so that there's enough left for others between the time I take them out of the oven and when I put them on serving plates.
Italian sausage and marinara pastry bites recipe
Yields 24
Ingredients:
1 package frozen puff pastry cups (24 count)
2 Italian sausages, cooked whole
1 (15 ounce) can tomato sauce
1/4 teaspoon garlic powder
1/4 teaspoon dried oregano leaves
3 dashes dried basil leaves
1/8 teaspoon salt
1/4 teaspoon ground black pepper
2 teaspoons grated Parmesan cheese (for the marinara sauce)
2 sticks string cheese (single serving size)
2 tablespoons grated Parmesan cheese (for the topping)
Directions:
For the sauce
In a medium-size bowl, add the tomato sauce, garlic powder, dried oregano, dried basil, salt, pepper and Parmesan cheese.
Stir the ingredients together and set aside.
For the pastry bites
Preheat the oven to 350 degrees F.
Bake the puff pastry cups according to the directions on the package. Leave the oven on after baking the pastry cups.
Remove the small, round pastry cut-out from the middle of each pastry puff making sure not to remove the bottom layer.
Set the pastry puff cups on a cookie sheet with the open side up.
Spoon marinara sauce into the hole inside each pastry cup.
Cut the sausage into thick slices width wise (6 slices per sausage). Then cut each slice in half.
Insert a piece of sausage in the marinara sauce in the middle of each pastry puff cup.
Peel each stick of string cheese into 12 long, thin pieces.
Gently wrap a piece of string cheese around each piece of sausage.
Bake in a preheated oven just long enough to melt the cheese.
Top with grated Parmesan cheese.
Serve while warm.
More puff pastry recipes
Puff pastry sticks in 3 ways
Puff pastry turkey empanadas
Ham and cheese puff pastry stromboli