Jack-o'-lantern-filled sweet potato casserole
I don't think there's a person in the world who actually likes doing dishes. If you are one of those people, do you mind coming over to do mine? To avoid more dish duty for you or your kids, I whipped up a fall favorite, sweet potato casserole, in a carved out pumpkin!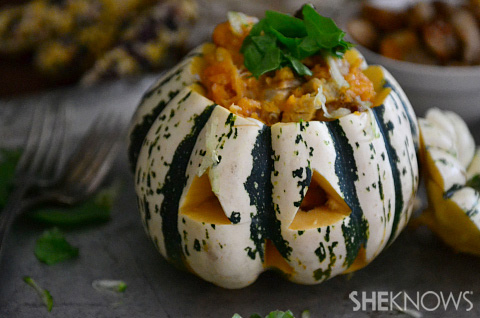 This means you can eat this classic and keep the pumpkin, little cleanup required! Plus, the addition of crispy chicken and havarti cheese make this normally sweet dish a perfectly savory one.
Jack-o'-lantern-filled sweet potato casserole recipe
Serves about 3
Ingredients: 
3 small pumpkins or squashes
1-1/2 large sweet potatoes, cooked and mashed
1 tablespoon dark brown sugar
1-1/2 tablespoons unsalted butter
1/2 small onion, chopped
2 tablespoons egg beaters
1 tablespoon whole milk
1 cup cooked and chopped chicken
1/4 cup shredded havarti cheese
2 tablespoons shredded mozzarella cheese
Salt and pepper
1 teaspoon Italian seasoning
Fresh herbs
Directions: 
Preheat oven to 375 degrees F. Grease a casserole dish with nonstick cooking spray.
Melt the butter in a skillet over medium heat. Add the onion and cook until softened. Add the onions, sweet potatoes, brown sugar, egg beaters, whole milk, chopped chicken, havarti cheese, salt, pepper and Italian seasoning. Stir to combine. Add the mozzarella cheese to the top of the casserole.
Bake for about 16 minutes, or until golden.
Carve out 4 faces from the 3 pumpkins or squash. Scoop out the seeds and discard.
Fill each mini pumpkin with chicken casserole. Garnish with fresh herbs.
More sweet potato recipes
Garlic sweet potato fries
Baked sweet potato fries
Sweet potato ham hash recipe