Harvest quinoa salad
Harvest quinoa salad combines fresh vegetables, fruit and nuts for a texture-happy meal that is hearty enough for any appetite.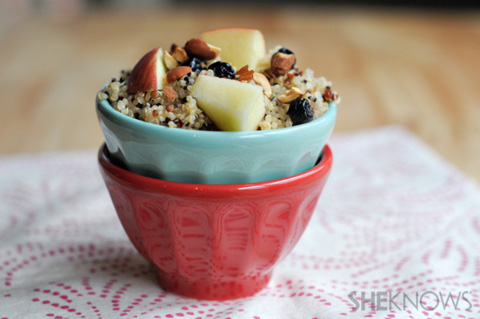 Harvest quinoa salad
Serves 4-6
Ingredients:
2 cups cooked quinoa
1 cup chopped fresh apple
1 cup dried cranberries
1 cup dried blueberries
1 cup chopped almonds
1 cup shredded carrots
1/4 cup olive oil
1/4 cup lemon juice
3 tablespoons honey
Directions:
In a large bowl, combine the quinoa, apple, cranberries, blueberries, almonds and carrots.
In a small bowl, whisk together the olive oil, lemon juice and honey until emulsified.
Toss the quinoa mixture with the dressing and season with salt and pepper as desired.
Serve cold or at room temperature.
More quinoa recipes the family will love
Copycat Whole Foods California quinoa salad
Three-bean and quinoa salad
California plum and quinoa salad