Breakfast butternut squash
Breakfast butternut squash takes halved butternut squash and fills it up with oats, nuts and fruit. Let it bake away while getting ready for the day and a hearty breakfast will be waiting before you head out the door.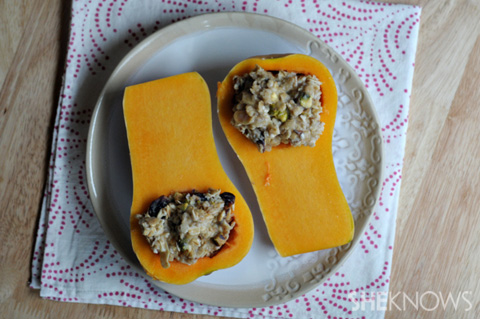 Breakfast butternut squash
Serves 2
Ingredients:
1 small butternut squash, cut in half lengthwise and seeded
1 cup old-fashioned rolled oats
2 cups milk of choice
1/4 cup dried cherries
1/4 cup dried blueberries
1/4 cup chopped pistachios
1/4 cup chopped toasted almonds
1 teaspoon vanilla
1/4 cup honey
Directions:
Preheat oven to 375 degrees F.
Line a baking sheet with foil and spray with nonstick spray.
Place the squash cut-side-down on the baking sheet.
Bake at 375 degrees F for 30 to 40 minutes until very tender.
When the squash has 10 minutes left, combine the oatmeal, milk, cherries, blueberries, pistachios, almonds, vanilla and honey in a small saucepan over medium heat.
Bring to a simmer and, stirring frequently, cook until the liquid is absorbed.
When the squash is done baking, turn it cut-side-up on a plate and divide the oatmeal mixture evenly between the 2 halves.
Enjoy hot.
More butternut squash recipes to try today
Butternut squash croquettes
Caramelized butternut squash with bacon
Mashed butternut squash with crispy shallots and bacon