Chicken marsala shepherd's pie
Chicken Marsala shepherd's pie takes the classic Italian dish and smothers it with a thick layer of creamy potatoes. This is one comfort meal that will be a hit from the first bite.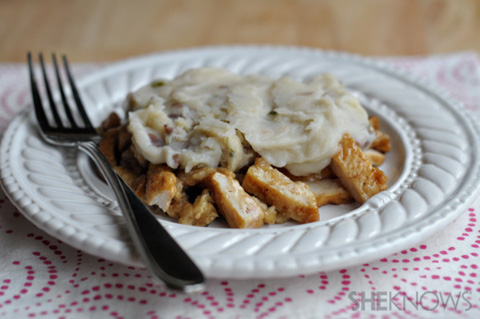 Chicken Marsala shepherd's pie recipe
Serves 4-6
Ingredients:
1 pound red-skin potatoes
1/4 cup butter
1/2 cup milk
1/4 cup grated Parmesan cheese
3 large boneless, skinless chicken breasts
2 cups sliced cremini mushrooms
2 tablespoons butter
2 tablespoons flour
1/2 cup Marsala wine
1/4 cup sherry
Directions:
In a large pot, cover the potatoes with cold water.
Bring to a boil over high heat, then reduce heat to medium and boil the potatoes until very soft.
Drain, then mash the potatoes with the 1/4 cup of butter, milk and Parmesan cheese. Season with black pepper if desired.
In a large skillet, heat 2 tablespoons of butter over medium heat.
Add the chicken. Saute until the chicken is cooked through, about 10 minutes.
Add the mushrooms and cook another 4 to 5 minutes.
Add the flour and coat the chicken and mushrooms in it.
Add the Marsala wine and sherry, stir to combine, and cook until the mixture is very thick.
Season as desired with salt and pepper.
Spread the chicken and mushroom mixture into the bottom of a casserole dish.
Top with the mashed potatoes and spread it evenly over the chicken.
Serve immediately, or broil until the potatoes on top are golden brown.
Serve hot.
More Marsala recipes to love
Quick chicken Marsala
Chicken and shiitake Marsala
Steak Marsala