Sweet monster sandwiches
Nothing says Halloween like these too-cute-for-words monster cookie sandwiches. Not only are they perfect for your kids' Halloween parties at school, but they're also great for adult parties too! I mean, who said kids get to have all the fun on Oct. 31?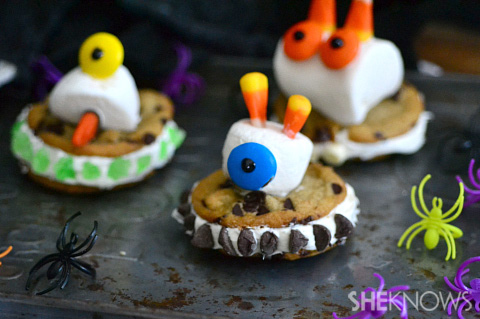 These spooky little cookies are so easy to make and only require a handful of ingredients. Pre-baked cookies, frosting and candy, really, that's all you need! If you want your kids to join in on making them, just be sure they don't eat all of the decorating candy before the monsters are made!
Sweet monster sandwiches
Adapted from Pillsbury.
Serves about 12
Ingredients:
12 pre-baked chocolate chip cookies
1/2 container frosting
Large marshmallows
Candy corns
Mega M&M'S
Rock candy
Regular chocolate chips
Directions:
To make the monsters, spread vanilla frosting over the top of 6 of the cookies. Add the remaining 6 cookies over the top, carefully smooshing them together to make a sandwich.
To make the eyes, add a dab of white frosting to the bottom of the marshmallows and attach to the top of the cookie sandwiches. You can either cut the marshmallows in half (to make 2 eyes) or use 1.
Add a dab of black icing gel to the center of the Mega M&M'S and stick into the center of the marshmallow.
For teeth, add the chocolate chips in the frosting. For other monsters, add a few specks of rock candy for additional sparkling color.
Stick a few candy corns in the tops (for antlers) or out for noses. Serve immediately!
More fun Halloween recipes
Halloween candy cookies
Mini scream face pizzas
Spooky hard-boiled egg eye recipe