Double chocolate zucchini muffins
These double chocolate muffins have a surprise ingredient: zucchini! These delicious, fluffy muffins are a win for both moms and picky eaters.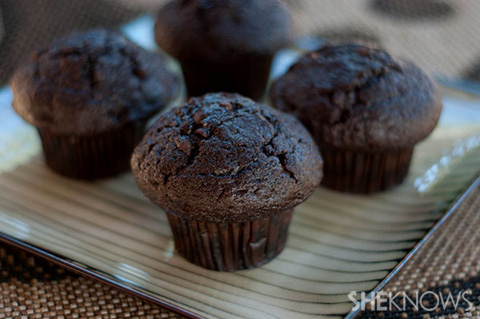 Have you ever wondered how you can easily sneak fresh vegetables into recipes without your kids or picky eaters even noticing? Well here is the answer to that question and it's so simple to do! Believe it or not, this double chocolate muffin recipe has some fresh zucchini hiding inside and the good thing about it is that nobody will notice. If you aren't a fan of dark chocolate which can be less sweet and a little more on the bitter side, try using milk chocolate ingredients. These muffins will hold up several days if kept in the refrigerator and are perfect for lunch boxes, snacks or desserts.
Double chocolate zucchini muffins recipe
Inspired by Ambitious kitchen
Freshly grated zucchini is folded into this double chocolate muffin batter and baked into these fluffy, healthy and chocolate treats. This is perfect for getting veggies into those picky eaters' bellies.
Prep time 15 minutes | Bake time 20 minutes | Cooling time 30 minutes | Total time 1 hour 5 minutes
Yields 12
Ingredients:
1-1/2 cups all-purpose flour
1/2 cup unsweetened dark chocolate or regular cocoa powder
2 tablespoons flax seed
1 teaspoon baking soda
1/4 teaspoon salt
1/2 cup semisweet chocolate chips
1/2 cup dark chocolate almond milk (you can also use plain skim, fat-free or vanilla nut milks such as almond or cashew)
1 cup shredded zucchini
3 tablespoons coconut oil
1/2 cup pure maple syrup, agave or honey
1 teaspoon vanilla
1 whole organic egg
Directions:
Preheat oven to 375 degrees F and line a muffin pan with liners.
Squeeze shredded zucchini of excess water with a paper towel. This is important, so don't forget!
In a large bowl, combine the flour, cocoa powder, flax seed, baking soda, salt and chocolate chips and mix well.
In a separate bowl, combine the chocolate almond milk, zucchini, coconut oil, maple syrup, vanilla and the egg mixing very well.
Fold the wet ingredients into the dry ingredients and spoon the batter into each muffin cup filling about 3/4 full.
Bake the muffins for 20 minutes or until the centers are completely baked.
Remove from the oven and cool 30 minutes on a wire whisk.
More healthy snack ideas
Healthy snacks for picky toddlers
15 Snacks kids will never know are healthy
20 Healthy make-ahead snacks