Sweet and spicy peanut brittle
When it comes to treats, this recipe is old-fashioned fun with a slight twist. Enjoy it as a snack with the family, or package it up and pass it out as a welcome gift.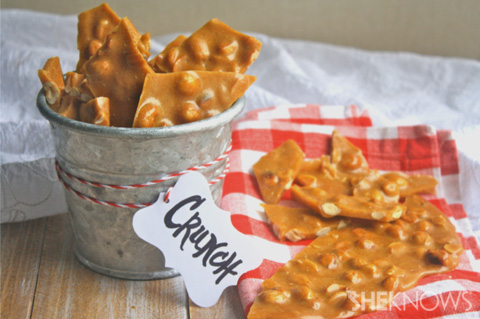 This recipe for sweet and spicy peanut brittle is a classic with a little something extra. The chipotle chile powder added to the mix gives this treat just the right amount of spice. It blends perfectly with the sweet snap of the brittle.
This peanut brittle is easy to make and it makes a great giveaway any time of year (think holidays). A crunchy, sweet treat is always welcome.
Sweet and spicy peanut brittle
Yields about 1 pound of candy
Ingredients:
1 cup sugar, plus 1/2 teaspoon
1/4 cup brown sugar
1/2 cup light corn syrup
1/4 cup water
1 cup shelled peanuts
2 tablespoons butter
1 teaspoon baking soda
1/2 teaspoon ground chipotle chile powder
Directions:
Line a baking pan with a sheet of parchment paper and set it aside.
Add the baking soda and chipotle chile powder to a small bowl and mix to combine. Set aside.
Add the 1 cup of sugar, brown sugar, corn syrup and water to a saucepan over high heat. Bring the mixture to a boil, and stir until the sugar dissolves.
Add the peanuts to the mixture. Continue to carefully stir as the mixture boils. Place a candy thermometer in the pan. When the temperature reaches about 275 degrees F (after about 10 minutes or so), remove the pan from the heat.
Stir in the butter and baking soda-chile powder mixture.
Immediately pour the mixture onto the baking pan. Use a rubber spatula to spread it out evenly across the pan. Sprinkle the 1/2 teaspoon of sugar evenly over the top.
Allow the mixture to cool completely. Lift the parchment paper up from the pan and transfer it to a flat surface. Break the peanut brittle into small pieces.
Store in an airtight container if not serving immediately.
This sweet, spicy treat is a welcome favorite.
More treats recipes
Cake batter Rice Krispies cake
Chocolate-avocado pudding pops
Blueberry, oatmeal and chocolate chip cookie bars