Rosemary-garlic smashed sweet potatoes
Rosemary-garlic smashed sweet potatoes are an herbaceous, flavorful way to enjoy this fall staple. Top with a little shaved Parmesan if you're feeling fancy.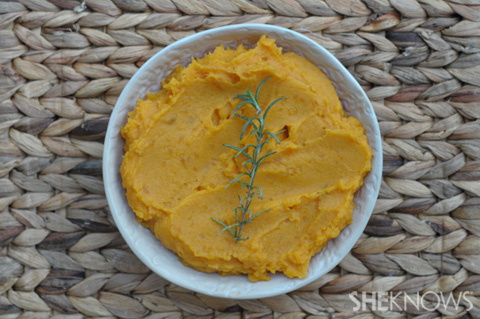 Rosemary-garlic smashed sweet potatoes
Serves 4-6
Ingredients:
2 large sweet potatoes, peeled and cubed
1/3 cup milk
2 tablespoons butter
1 bulb garlic
2 tablespoons olive oil
1 tablespoon very finely minced fresh rosemary
1 teaspoon salt
1/2 teaspoon black pepper
Directions:
Cut the garlic bulb in half so that the cloves are exposed.
Place on a piece of foil and drizzle the garlic with olive oil.
Wrap the garlic in the foil and place in a cold oven.
Turn oven on to 325 degrees F and roast the garlic for 30 to 40 minutes until the garlic cloves are soft.
While the garlic is roasting, place the sweet potato cubes in a pot of cold water.
Bring the water to a boil and boil the potatoes for 20 to 30 minutes until the sweet potatoes are very soft.
Drain the potatoes.
Mash the sweet potatoes with the butter, milk, salt and pepper.
Stir in the rosemary.
Gently squeeze out the garlic cloves and roughly chop with a knife.
Stir the garlic into the sweet potatoes.
Serve hot.
More amazing sweet potato recipes
Chipotle mashed sweet potatoes
Mashed sweet potatoes with coconut candied walnuts
Mashed sweet potatoes and bananas