French toast with bloody strawberry syrup
Treat yourself to a creepy and delicious Halloween breakfast made with bloody syrup that tastes just like strawberries.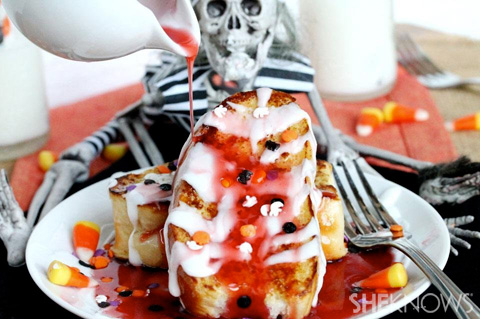 You know something named "bloody" just has to be good for Halloween especially for breakfast. I know bloody syrup doesn't sound very good but this one sure is. And there's nothing like a sweet breakfast to get your day off to a good start. Watch out though, because skeletons, ghosts and goblins may be trying to eat what's on your plate this Halloween. Is it just me or did a skeleton totally photobomb the picture of this French toast? I didn't even see this one coming. It's like the skeleton just jumped in the picture out of thin air.
French toast with bloody strawberry syrup recipe
Serves 2
Ingredients:
2 cups frozen or fresh strawberries, stems removed and discarded, and strawberries cut in pieces
1 cup water
3 tablespoons granulated sugar
1 cup powdered sugar
2 tablespoons milk or a bit more if the glaze is too thick (for the glaze)
4 thick pieces French bread
3 eggs
1 tablespoon milk (for the eggs)
2 teaspoons butter
Halloween assorted candies or sprinkles
Directions:
For the bloody strawberry syrup
Heat a small pan on low to medium heat and add the strawberries, water and granulated sugar. Stir as the strawberries start to cook down and the liquid thickens (about 10 to 15 minutes).
Remove from the heat.
Using a wire mesh strainer, strain the liquid into a separate bowl for about an hour or more if time permits.
Discard the strawberry pulp and just keep the strained strawberry liquid syrup.
For the glaze
In a small bowl, add the powdered sugar and milk. Mix together until thick and creamy. If the mixture is too thick, add just a tiny bit more milk. Set aside.
For the French toast
In a small- to medium-size fairly shallow bowl, add the eggs and milk. Whisk together.
Heat a large skillet on medium heat, add the butter and spread it over the bottom of the pan.
Dip the pieces of bread in the egg mixture and lay them in the pan.
When the bottom side of the bread turns a light golden brown color, turn them over.
Once both sides of the bread turn a light golden brown color, remove them from the pan and transfer to serving plates.
Drizzle the glaze on top of the French toast in a zigzag pattern. Then drizzle a straight line from the top of the bread lengthwise to the bottom to resemble a skeleton's back bone.
Top the glaze with candy sprinkles before it dries.
Serve topped with bloody strawberry syrup.
More fun Halloween recipes
Halloween cheese mummy recipe
Bloody teeth treats
Halloween bug punch