Sweet potato snickerdoodle muffins
Steamed sweet potatoes are folded into snickerdoodle cupcake batter and baked up into this surprisingly delicious and healthy spin on dessert.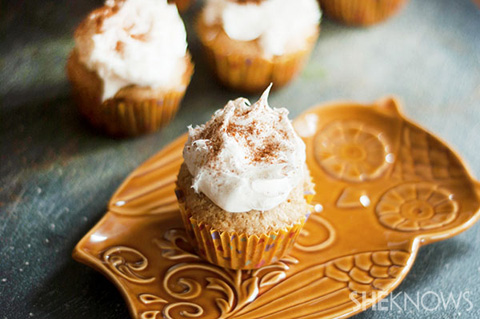 Have kids that hate eating their veggies? Here is a great way to sneak in sweet potatoes without anyone even knowing that you did! When sweetened, these spuds can take on an almost dessert-like flavor making it versatile in desserts or other baking recipes. In this recipe I steamed my sweet potatoes making it easier to mash and blend into the cupcake batter. Once baked, these cupcakes will keep several days if kept in the refrigerator.
Sweet potato snickerdoodle muffins recipe
Yields 12
Fluffy and moist, these cupcakes have a secret ingredient. Steamed sweet potatoes are easily disguised in this easy and foolproof kid-friendly dessert.
Prep time: 20 minutes | Bake time: 15 minutes | Cooling time: 60 minutes | Total time: 1 hour 35 minutes
Ingredients:
For the cupcake batter
1 large or 2 small sweet potatoes
2 cups all-purpose flour
1/2 cup coconut flour
1/2 tablespoon baking powder
1 stick unsalted butter, softened
1 cup dark brown sugar
1 tablespoon ground cinnamon
1 teaspoon pure vanilla extract
2 whole organic eggs
3/4 cup unsweetened vanilla almond milk
For the frosting
1-1/2 cups store-bought vanilla frosting or homemade frosting
Ground cinnamon in shaker jar for garnish
2 tablespoons granulated sugar
Directions:
Preheat oven to 350 degrees F. Line a muffin pan with 12 liners and set aside.
Puncture the sweet potatoes with a knife and microwave for 5 to 6 minutes until very soft. Remove from the microwave and allow to cool until they can be handled.
With a spoon, scoop out the cooked sweet potatoes from the skin and place in a bowl. Mash with a fork until smooth, then set the potatoes aside.
In a separate bowl, combine the all-purpose flour, coconut flour and baking powder.
To the bowl with the mashed sweet potatoes, add the remaining ingredients for the cupcake batter. Using a hand mixer beat the batter 1 to 2 minutes or until it is smooth and creamy and there are no lumps.
Fold the wet ingredients into the dry ingredients. Spoon the batter into the prepared muffin pan filling each cup about 3/4 full with the batter.
Bake the muffins 15 minutes or until the centers are completely baked. Remove from the oven and remove each cupcake from the pan. Place the cupcakes on a wire rack and cool for 1 hour.
Once the cupcakes are completely cool, top each cupcake with the vanilla frosting, a sprinkle of cinnamon and a sprinkle of the granulated sugar. Serve immediately or store in the refrigerator.
More delicious sweet potato recipes
Loaded Mexican stuffed sweet potatoes
Sweet potato cherry galette
Sweet potato quinoa burgers