Pumpkin quesadillas
The unusual combination of pumpkin and cheese puts a savory fall twist on quesadillas.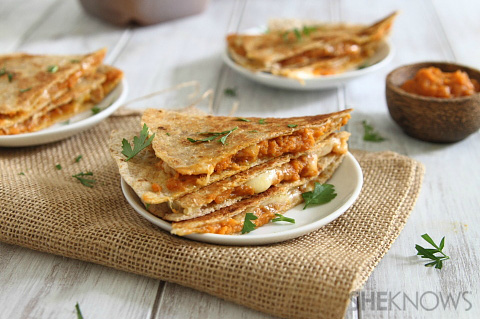 With the pumpkin craze in full effect, these pumpkin quesadillas are sure to be a hit as a delicious fall snack. Pumpkin and cheese seems like an unusual combination but it works perfectly in these. They're gooey, cheesy, seasonal and great not only for the kids after school but even as a quick and easy party appetizer.
Pumpkin quesadillas
Yields 3-4 servings
Ingredients:
6 slices sharp cheddar cheese
2/3 cup pumpkin puree
2 large flour tortillas
1/4 teaspoon cumin
Salt and pepper
1/2 tablespoon butter
Chopped parsley for garnish
Directions:
Heat butter over medium heat in a large skillet.
Place 1 tortilla in the pan and lay cheddar slices on top. Cover with a lid until cheese is melted.
Meanwhile, mix pumpkin puree, cumin, salt and pepper together in a small bowl.
Remove lid from skillet, dollop the pumpkin mixture on top of the cheese around the tortilla. Place the other tortilla on top, carefully pressing down.
Carefully flip the quesadilla and cook for another 1 to 2 minutes so the other side gets brown and crispy.
Transfer the quesadilla to a cutting board, cut into pieces with a sharp knife.
Garnish with parsley if desired.
More quesadilla recipes
Stuffed pizza quesadillas
Pesto quesadilla
BBQ pork and pineapple quesadillas