Double dish eyeball tortilla casserole
Eyeballs have never been, well, appetizing, at least in my book. But how on earth can you resist eyeballs that look and taste as good as these do? Don't worry, I'm not advocating cannibalism — these eyes are made entirely of cheese and olives.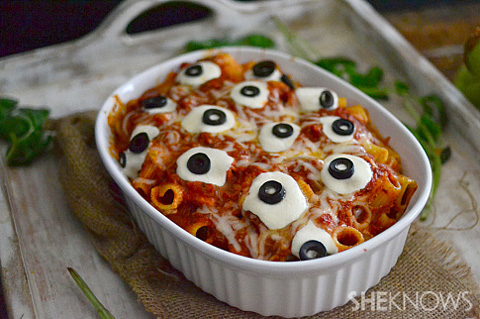 And the absolute best part lies in what's underneath the sea of eyes, like the deep dish pasta casserole filled with two cheeses, tortillas and lots of chunky sauce. It's the best set of eyeballs I've ever had (and your kids will certainly agree!)
Double dish eyeball tortilla casserole recipe
Inspired and adapted by Campbell's
Serves about 8-12
Ingredients:
3 cups chunky or homemade marinara sauce
15 ounces (1 container) whole milk ricotta cheese
16 ounces ziti pasta
2 soft tortillas, chopped
1 cup shredded mozzarella cheese
8 ounces fresh mozzarella, cut into circles
Black olives for garnish
Directions:
Bring a large pot of water to a rapid boil, add a dash of salt to the water. Add in the pasta noodles and cook until al dente, about 8 minutes. Rinse in cold water and set aside.
Mix the cooked pasta with the 3/4 of the marinara sauce and ricotta cheese. Stir in the chopped tortillas.
Pour the mixture into a greased casserole dish.
Preheat oven to 425 degrees F. Sprinkle 1/2 cup of shredded mozzarella over the pasta mixture. Top with remaining sauce and sprinkle with the rest of the cheese. Cover with foil and bake for about 22 minutes, or until cheese is melted and bubbly.
To make the eyes, place the fresh mozzarella circles over the top of the casserole, adding 1 sliced olive to the center for the pupil. Serve warm.
More fun Halloween recipes
Halloween candy cookies
Barfing pumpkin party dip
Mini scream faces pizzas