Apple pecan pie
Apple pecan pie brings two of America's greatest pies together in one shell. Enjoy with a scoop of vanilla ice cream, whipped cream... or both.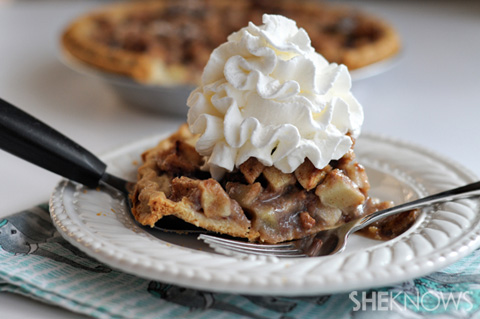 Apple pecan pie
Makes 1 (9-inch) pie
Ingredients:
1 frozen deep-dish pie crust
4 large Granny Smith apples, peeled, cored and diced
1 cup toasted pecans, chopped
3/4 cup granulated sugar
1/4 cup all-purpose flour
3/4 teaspoon cinnamon
1/4 teaspoon nutmeg
Juice of 1 lemon
Directions:
Preheat oven to 425 degrees F.
In a large bowl, toss together the apples and pecans.
In a small bowl, toss together the flour, sugar, cinnamon and nutmeg.
Stir the lemon juice into the apple mixture.
Stir the flour mixture into the apple mixture.
Pour the entire mixture into the frozen pie shell, mounding up as needed; the apples will cook down.
Bake at 425 degrees F for 30 minutes, then cover loosely with foil and bake another 10 minutes.
Let cool completely before cutting.
More show-stopping pie recipes
Bacon apple pie
Vegan classic coconut cream pie
Oatmeal blackberry breakfast pie