Apple cinnamon roll muffins
You know all that cinnamon roll flavor you love? Well, we are giving it to you but it's even better. It's in muffin form and packed full of fresh fall apples.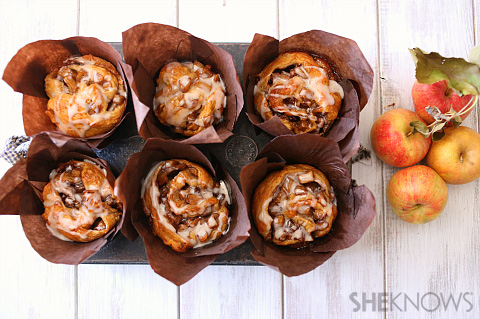 There is nothing I love more than homemade cinnamon rolls and apples. So that's why I took both of those flavors and threw them together. You will go nutso over this recipes and love how simple and easy it is to throw together.
Apple cinnamon roll muffins
Yields 6
Ingredients:
2 large apples, peeled/cored/diced
1/4 cup brown sugar
2 teaspoons apple pie spice
1 package refrigerated crescent rolls
1/2 cup powdered sugar
1 tablespoon milk
1/2 teaspoon vanilla extract
Directions:
In a medium-sized saucepan, add apples, brown sugar and apple pie spice. Cook until apples are soft and mixture is syrupy. Remove from heat and cool to room temperature.
Preheat oven to 350 degrees F and line a muffin tin with 6 liners.
Open crescent rolls, unroll and press together to create 1 large crescent sheet.
Pour apple mixture over crescent rolls, roll up and slice into 6 rolls.
Place sliced rolls into liners.
Bake for 25 minutes until the rolls are fully cooked.
In a small bowl, whisk together powdered sugar, milk and vanilla extract.
Drizzle over muffins.
More cinnamon roll recipes
Bacon-stuffed cinnamon rolls
Cinnamon roll cream cheese cake
Cinnamon roll pancakes