Nut-crusted spiced French toast
French toast is great but it gets even better when it is crusted in chopped mixed nuts and topped with a spiced maple syrup.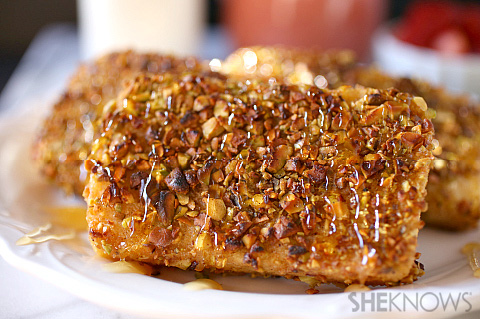 There is nothing better than a big Sunday breakfast. This simple nut-crusted French toast is a family favorite and is packed full of flavor. The spiced maple syrup is optional but why would you want to leave it out? Trust me, it's worth it.
Nut-crusted spiced French toast recipe
Yields 4-6 servings
Ingredients:
2 large eggs
1 cup whole milk
1 tablespoon dark brown sugar
1 teaspoon vanilla extract
1 cup chopped pistachios
1 cup chopped hazelnuts
6 thick slices bread
2 cups maple syrup
4 whole cloves
2 cinnamon sticks
Directions:
Preheat oven to 200 degrees F and preheat your griddle to medium heat.
In a shallow dish (I used an 8 x 8-inch casserole pan) whisk together eggs, milk, dark brown sugar and vanilla extract.
In another shallow dish, mix together nuts.
Quickly dip bread into the milk mixture and press both sides into the nuts. Crust the bread thoroughly.
Spray your griddle with nonstick spray (or melted butter) and add French toast.
Cook until the bottom is toasted, flip and cook until other side is toasted as well.
Add cooked French toast to a baking sheet and keep warm in the oven while you prepare maple syrup.
In a small saucepan, add maple syrup, cloves and cinnamon sticks.
Simmer on low heat for 5 minutes until lightly spiced and flavorful.
Serve French toast with a drizzle of syrup.
More French toast recipes
Nutella-stuffed French toast roll-ups
Bananas Foster French toast
Mascarpone-stuffed French toast