Sweet potato cake
Sweet potato cake is a tender, moist cake chock-full of spice and flavor. A simple cake that is perfect served with ice cream, whipped cream or simply on a plate with a fork.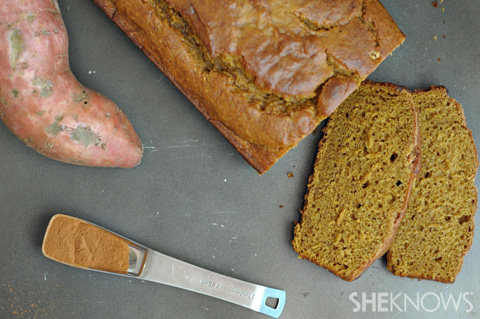 Sweet potato cake
Serves 8
Ingredients:
2 large eggs
2/3 cup granulated sugar
2/3 cup dark brown sugar
1/4 cup milk
1 teaspoon vanilla extract
1 cup sweet potato puree
1 tablespoon pumpkin pie spice
1/2 teaspoon salt
1/2 teaspoon baking soda
1/2 teaspoon baking powder
1-1/2 cups flour
Directions:
Preheat oven to 350 degrees F and grease a 9 x 5-inch loaf pan. Set aside.
In a large bowl, whisk together the eggs, sugar, brown sugar, milk, vanilla and sweet potato puree until smooth.
Sift in the pumpkin pie spice, salt, baking soda, baking powder and flour.
Gently fold together just until combined.
Pour the batter into the prepared loaf pan.
Bake at 350 degrees F for 60 minutes or until a toothpick inserted comes out clean.
Let cool completely before removing from pan and slicing.
More favorite cake recipes
Lemon beer loaf cake
Spicy gingerbread loaf cake
Peekaboo pumpkin pound cake