Modern Mom: Our favorite fall kids' recipes
Fall screams scarves, chunky knit sweaters, tall boots, crisp leaves and, of course, pumpkin everything. While I personally love everything from butternut squash soup to pumpkin pasta, my kids — not so much.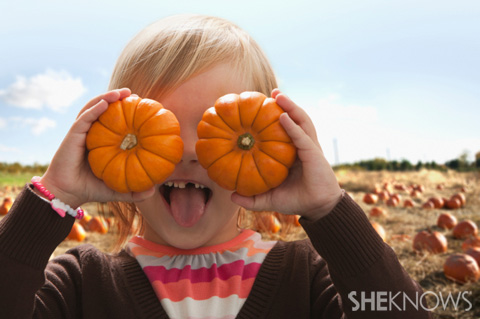 Photo Credit: KidStock/Blend Images/Getty Images
My kids, like most other kids, are a bit picky when it comes to their favorite fall foods. Here's a roundup of our favorite kid-tested, mother-approved fall recipes for your little ones.
Wild rice and sausage-stuffed mini pumpkins
Your kids will love that they're eating their dinner out of a pumpkin, and you'll love that your kids are eating dinner and everyone will love the festive flavor the dish brings to the table. There's no better way to start fall than with this hearty, seasonal dish!
Mini caramel apple bites
Yum! Nothing screams fall more than caramel apples on a crisp autumn day. Kids can have a hard time eating the regular-size version, but mini caramel apples? Piece of cake! Make an afternoon of it and get them involved in the baking process, too!
Gluten-free sweet potato skillet cornbread
Moist sweet potato cornbread pairs perfectly with chili on cold fall nights. You can also use this cornbread as the base of your stuffing on Thanksgiving Day.
Pumpkin coconut pudding
Healthy, delicious and easy to make, this pumpkin coconut pudding is perfect for an afternoon snack, dessert or even in the morning with a side of fruit.
Minestrone soup
Surprisingly, my kids love hearty, vegetable-filled soups. Minestrone soup is low in carbs, packed with veggies and full of vitamins and minerals. Serve with whole wheat bread for dipping or a baked sweet potato with butter and brown sugar.
Homemade apple cider
Do your kids love apple juice? If so, they'll love this homemade version made with real apples, sugar, cinnamon sticks and allspice berries. Enjoy one evening while watching your favorite holiday movies with the family!
Apple crust pizza with sauce
An after-school snack the kids will love, this pizza is made with thinly sliced apples as the crust, drizzled with warm sunflower seed butter sauce, then topped with your choice of toppings. Who said it had to be hard to get kids to eat apples?!
Gluten-free pumpkin cheesecake
Kids typically veer away from pumpkin pie because of the intense pumpkin flavor. That's where pumpkin cheesecake comes in — it's rich, smooth and creamy with just a hint of pumpkin flavor. Even better? This recipe is gluten-free and bakes perfectly every time!
Pumpkin-raisin bread with cream cheese frosting
If all else fails, your kids are guaranteed to love this pumpkin-raisin bread with cream cheese frosting. Raisins, frosting, bread. Need we say more?!
More Modern Mom
Modern Mom: Teaching kids table manners
Modern Mom: 10 Heart-healthy foods for kids
Modern Mom: Teaching your kids to love cooking