4 Easy Halloween recipes kids can make
This article should really be titled "4 Halloween recipes you'll love making as much as your kids do," because really, they're that fun. Many kids don't have a desire to be in the kitchen, but these four recipes will change that and more. I mean, who doesn't love decorating bloodshot eyeballs?
These zombie eyeballs, jars of worms, spooky milkshakes and adorably edible spiders — your kids may have more fun decorating and assembling these spooky edibles than you do! Hey, this gives you more time for wine, right?
1. Zombie eye doughnuts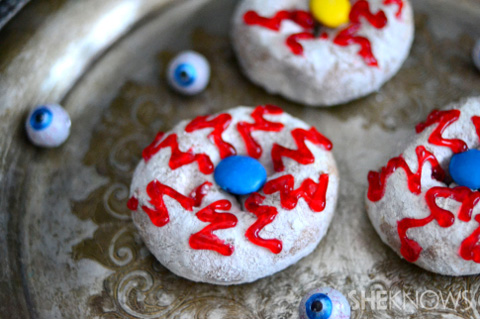 Serves 6
Ingredients:
6 large powdered doughnuts
3 tubes red icing gel
Colored M&M'S
White frosting
Directions:
Arrange your doughnuts on a plate. Using the red icing gel, carefully create "squiggles" coming from the center of the doughnut for the "bloodshot" eye look. Add a small dab of white frosting to the back of an M&M and place in the center of the doughnut.
Serve immediately!
2. Worm-infested JELL-O cups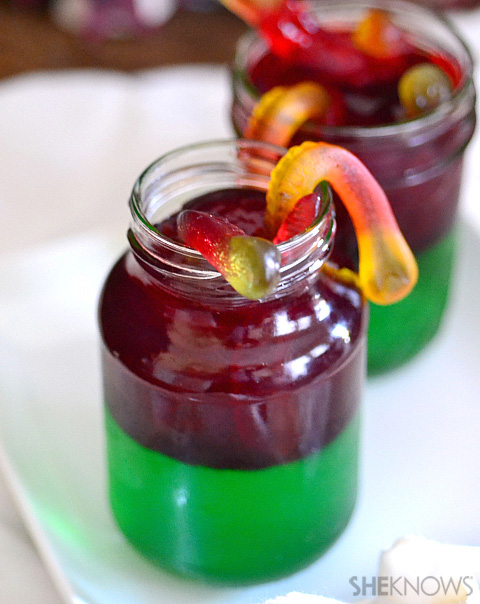 Serves about 8
Ingredients:
1 box cherry JELL-O
1 box lime JELL-O
2 cups boiling water
2 cups cold water
1 bag gummy worms
Directions:
In a large bowl, whisk the cherry JELL-O with the boiling water and whisk until dissolved. Keep whisking in the cold water until mixture is combined. Divide into 8 small Mason jars, filling halfway full with JELL-O. Place in the fridge and chill until hardened.
Meanwhile, whisk the lime JELL-O with boiling water until dissolved. Whisk in the cold water until mixture is combined. Place a few gummy worms in each Mason jar (sticking into the JELL-O already hardened). You want at least 1 coming out from the top.
Pour lime JELL-O over the worms and the cherry JELL-O and chill another 6 to 8 hours, or until set.
3. Graveyard milkshakes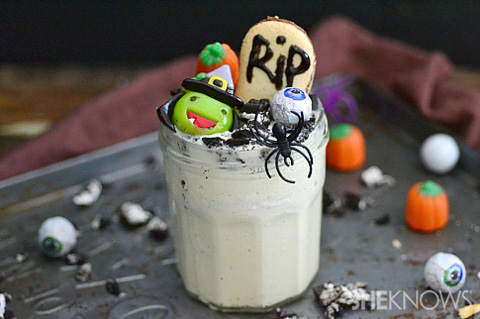 Serves 2
Ingredients:
1 cup vanilla ice cream
1/2 cup whole milk
1/2 teaspoon vanilla extract
Whipped cream
1/2 cup crushed Oreo cookies
4-6 Milano cookies
Red or black icing gel
Pumpkin candy corns
Eyeball candies
Witch gummy candies
Directions:
To make the milkshakes, blend the ice cream, whole milk and vanilla extract together until creamy. Pour into 2 jars. Top the milkshakes with whipped cream and then sprinkle with 1/4 cup of Oreo cookie crumbs on each milkshake.
To make the tombstones, carefully write RIP with black or red icing gel onto the cookies. Carefully stick into the cookie crumbs. Add the eyeballs, gummy candy and candy corns to decorate.
4. Spider cracker bites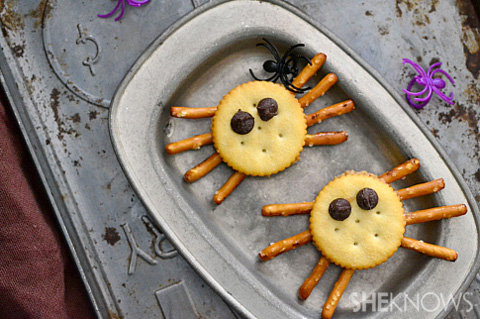 Serves about 4
Ingredients:
8 Ritz crackers
4 tablespoons peanut butter
32 pretzel rods
8 chocolate chips
Melted chocolate
Directions:
To make the spiders, spread 1 tablespoon of peanut butter over 4 crackers and carefully press the other remaining crackers on top to create a sandwich. Stick 4 pretzel rods onto each side, carefully sliding into the peanut butter (each spider should have 8 legs).
Add a dab of melted chocolate to the back of 2 of the chocolate chips and press onto the top part of each cookie sandwich (for eyes).
More kid-friendly Halloween recipes
Scary graveyard lasagna
Mason jar Halloween pumpkins
Ghoulish monster eyeball soup