Chocolate-cherry vanilla smoothies
Can you think of a better flavor combination than chocolate and cherries? Add vanilla yogurt to the mix and you'll flip over these creamy smoothies.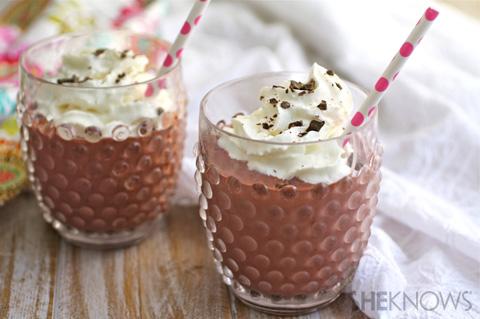 Smoothies are a favorite breakfast option (and snack) in my house, but don't overlook these chocolate-cherry and vanilla smoothies for dessert. Simply add whipped topping and chocolate shavings to make them totally dessert-worthy.
The vanilla yogurt is the base of this smoothie recipe, and I added a little pure vanilla extract for a bit more of a vanilla vibe. The cocoa powder turns things chocolaty, but because it's unsweetened, I added honey for a bit of something sweet for this chilly delight.
Chocolate-cherry vanilla smoothie recipe
Yields 2 (8-ounce)
Ingredients:
12 ounces vanilla yogurt
6 ounces frozen pitted cherries
1/4 cup milk
3 tablespoons unsweetened cocoa powder
1/4 teaspoon pure vanilla extract
Honey, to taste
1-1/2 cups ice cubes
Optional: Whipped topping and shaved chocolate for garnish
Directions:
Add the yogurt, cherries and milk to a blender. Pulse until smooth. Add the cocoa powder and vanilla extract, and pulse several more times to incorporate.
Taste the mixture and add honey to sweeten the smoothie if you'd like. Start with 1 tablespoon.
Add the ice cubes and blend until smooth. Taste and adjust, as needed.
Serve cold topped with whipped topping and bits of shaved chocolate.
Serve smoothies for breakfast, as a snack or even dessert.
More breakfast recipes
Carrot cake pancakes with coconut whipped topping
Chocolate-cinnamon waffles with salted caramel sauce
Apple, bacon and egg potato bake