Mini cinnamon rolls with orange glaze and sprinkles
Colorful and fun-filled cinnamon rolls small enough for little hands.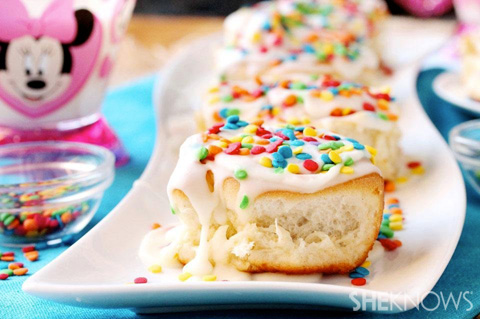 Cinnamon rolls made even better with orange glaze and colorful candy sprinkles. Kids can join in the fun and decorate each cinnamon roll with their favorite candy colors. The candy sprinkles can be a variety of colors or even festive colors for whatever holiday is around the corner. For something really different, instead of a birthday cake I like to set the cinnamon rolls right next to one another on a large round plate and add birthday candles to each one. Then after the candles are blown out everyone gets their own birthday cinnamon roll. How fun is that.
Mini cinnamon rolls with orange glaze and sprinkles recipe
Makes about 12 mini cinnamon rolls
Ingredients:
For the cinnamon rolls
1 cup water
2 tablespoons butter, softened
1 egg
3-1/3 cups bread flour
1/4 cup plus 1 tablespoon sugar
3-1/2 teaspoons active dry yeast
A bread maker
2 tablespoons melted butter (for brushing on the formed dough)
For the filling
1/3 cup sugar
1 tablespoon brown sugar
2-1/2 teaspoons ground cinnamon
For the glaze
2 cups powdered sugar
2 medium-size oranges, juiced
1/2 teaspoon orange extract
For the topping
Directions:
For the cinnamon rolls
Add all ingredients (except the melted butter) in a bread maker and set on the dough setting.
When the dough is finished, remove and set it on a large floured cutting board.
Roll out the dough into a large rectangle.
Using a pastry brush, brush the melted butter on top of the dough.
Sprinkle the filling evenly on top of the dough.
Starting at 1 of the shortest sides of the rectangle, tightly roll the dough to form a "tube" shape.
Use a sharp knife to cut the "tube" into 12 (1/2-inch) cinnamon rolls.
Place each cinnamon roll in a greased baking pan with at least 3-inch high sides.
Lay a paper towel on top of the cinnamon rolls and let sit for about 1 to 1-1/2 hours or as long as needed for the dough to rise.
Preheat oven to 375 degrees F.
Bake the cinnamon rolls in the oven until the tops turn a light golden color.
Remove from the oven and transfer the cinnamon rolls to a large serving dish.
Drizzle glaze on 1 cinnamon roll and then immediately top with candy sprinkles.
Repeat the process 1 cinnamon roll at a time so that the candy sprinkles will stick to the glaze.
Serve while warm.
For the filling
Mix all ingredients in a small bowl.
For the glaze
Just before the cinnamon rolls come out of the oven, mix the powdered sugar, orange juice and orange extract in a small bowl.
For the topping
Add the candy sprinkles to a small bowl for easy access.
More cinnamon roll recipes
Pumpkin pie cinnamon rolls with orange vanilla glaze
Pumpkin cranberry cinnamon rolls with maple icing
Blueberry cinnamon rolls