Make fro-yo in your food processor in just 10 minutes
Frozen yogurt is a satisfying treat that can be made in minutes at home, no trip to the ice cream store required.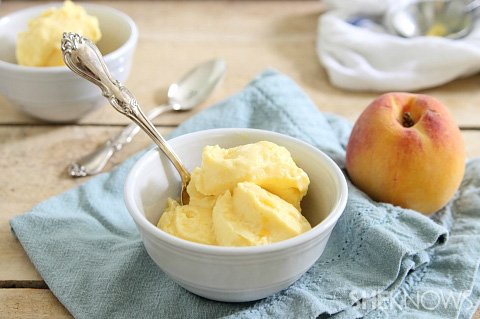 What's for dessert is a more important question in our house than what's for dinner. So if you're anything like us, you need to have something sweet to keep everyone happy the second dinner is over. Homemade frozen yogurt is the perfect solution when you need something fast. All you need are two ingredients and a food processor. It hardly gets easier than that. Feel free to change up the fruit for whatever you have on hand. Fresh fruit is fine too, but just make sure to freeze it for a few hours first.
Peach frozen yogurt recipe
Yields 4 servings
Ingredients:
1-1/2 cups chopped frozen peaches
1/2 cup full fat (or 4 percent) plain Greek frozen yogurt
1-2 tablespoons honey (optional)
Directions:
Place all ingredients in a food processor and process until smooth, about 2-3 minutes. Scrape down the sides as needed. Mixture will be the consistency of soft serve ice cream when ready. Serve immediately or transfer to a freezer safe bowl and freeze until ready to serve.
More frozen treat recipes
Pumpkin frozen yogurt
Vegan raspberry frozen yogurt
4 Quick and easy fruity frozen yogurts