Dinner Shortcuts: Ham and peas creamy pasta skillet recipe
Ham and peas are the perfect addition to a creamy pasta skillet supper.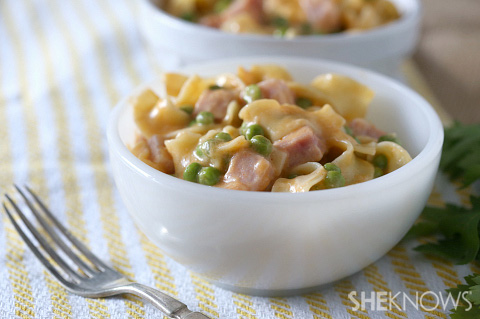 Ham and peas are a match made in heaven. This super-simple pasta dish is full of flavor and a breeze to throw together. This is the perfect busy weeknight meal.
Ham and peas creamy pasta skillet recipe
Yields 4 servings
Ingredients:
1 pound egg noodles
2 tablespoons olive oil
1 medium yellow onion, diced
1 clove garlic, minced
1 cup ham, diced (from a store-bought ham steak) 
1 cup frozen peas
1 cup heavy cream
1/3 cup grated Parmesan cheese
Salt and pepper, to taste
Directions:
Bring a large pot of water to a boil over high heat. Add pasta and cook according to bag directions, set aside.
In a large skillet set over medium heat, add olive oil. Once the oil is hot add onion. Sauté until the onion just starts to soften. Add in garlic and stir until fragrant, about 30 seconds.
Stir in ham and peas and stir to combine.
Add in heavy cream and pasta. Stir to combine and let simmer just until the sauce thickens slightly.
Stir in Parmesan cheese and season with salt and pepper.
More Dinner Shortcuts recipes
Stove top meatloaf recipe
BBQ chicken quesadilla recipe
Monte Cristo crescent roll-up recipe