Modern Mom: 5 Foods to boost your child's immunity
According to the Centers for Disease Control and Prevention, elementary children average eight to 12 cases of the flu or colds each year. Let's help put a stop to this by boosting their immunities with these five foods.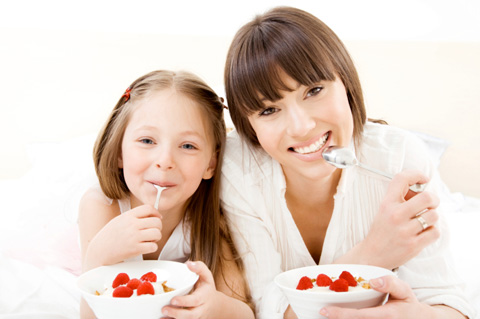 Photo Credit: svetikd/Vetta/Getty Images
In addition to getting your child's flu shot, washing their hands and avoiding being around sick people, what we feed our kids affects their likelihood of getting sick, too. If you don't fuel your kids' bodies with the right nutrition, they won't be able to fight off infections as easily as they could. Foods that help boost your child's immunity (and your own) include yogurt, berries, mushrooms, citrus fruits and sweet potatoes.
Yogurt
Yogurt contains probiotics, or good bacteria, that help promote a healthy immune system and digestive tract, according to WebMD. Since kids typically go nuts for yogurt, it's easy to get them to eat it for breakfast or as an after-school snack. Freeze it and make it into yogurt-pops, make yogurt parfaits or blend it up in a smoothie.
Tip: Purchase yogurt brands that contain live cultures (those are typically the ones with liquid on top).
Berries
Berries are packed with antioxidants to help fight off colds and flu and help prevent future ones from striking your family. Acai berries and blueberries specifically are both rich in antioxidants and taste great blended in smoothies or dried out and topped on granola. Kids may not love acai berries, as they have a more bitter taste than blueberries, but it's worth it to give it a shot.
Mushrooms
There's been debate over whether or not mushrooms are actually healthy, but according to WebMD, mushrooms contain selenium which is needed to lower your risk of developing more severe forms of the flu. Sneak mushrooms into pasta sauces, soups or casseroles. Even if your child doesn't like them, they usually won't notice the flavor if it's hidden in other foods.
Citrus fruits
Instead of waiting until your child has a cold to offer them vitamin C, use it as a preventative measure to fight the cold before it starts. Vitamin C is what keeps your white blood cells working at optimum level — allowing them to fight off infections before your child gets sick. Citrus fruits include grapefruits, oranges, limes, lemons and mandarins. As always, try to only offer fresh fruits instead of sugary juices.
Sweet potatoes
I can't stress my love of sweet potatoes enough. Any food that both my baby and my toddler like is a win-win in my book. Sweet potatoes contain vitamin C and beta-carotene which both help strengthen the immune system. Bake in the oven at 425 degrees F for 50 minutes and mix with butter and brown sugar. Enjoy as an after-school snack or with dinner twice a week for maximum results.
More Modern Mom
Modern Mom: The importance of vitamin A for your kids
Modern Mom: 10 Heart-healthy foods for kids
Modern Mom: Homemade organic baby food