Carrots drenched in a quick and easy homemade teriyaki sauce
One skillet, a small bag of carrots and homemade teriyaki sauce equal one wonderful side dish.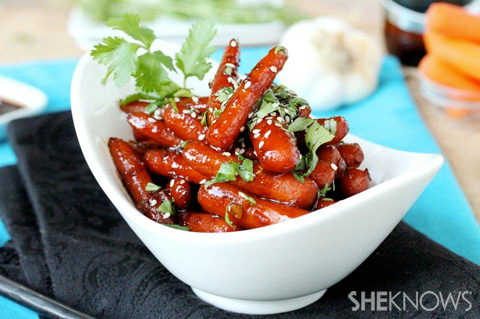 I just love to make one-skillet recipes not only because it cuts down on dirty dishes but also because it's so easy. I think the hardest thing about making this recipe is opening the bag of carrots. As an added bonus, the teriyaki glaze is homemade and smells so good while it's cooking. And you know if it smells good while it's cooking, it has to be really good by the time it hits your dinner plate.
Teriyaki glazed skillet carrots
Serves 2
Ingredients:
For the teriyaki sauce
1/2 cup pineapple juice
1/4 cup soy sauce
1 tablespoon hoisin sauce
1/4 teaspoon sesame oil
1 tablespoon rice vinegar
1 tablespoon honey
2 pinches red pepper flakes
For the carrots
2 cups baby carrots, cut and peeled
1/2 cup chopped onion
1 clove garlic, diced
2 teaspoons olive oil
4 dashes ground black pepper
Teriyaki sauce
1 tablespoon chopped cilantro (for garnish)
1 teaspoon sesame seeds (for garnish)
Directions:
For the teriyaki sauce
In a small bowl, add all ingredients and whisk together. Set aside.
For the carrots
Heat a medium-size skillet on medium heat and add the olive oil.
Add the onions, garlic and the carrots.
Stir as the veggies cook. When the onions start to turn translucent (about 7 to 8 minutes) add a lid to the skillet and turn the heat down to low.
With the lid still on, let cook until the carrots start to get tender (use a toothpick to test the carrots to see if they're starting to get soft).
Add the teriyaki sauce to the pan.
Stir while the sauce reduces in the pan.
Let the sauce reduce until it becomes thicker.
Serve while hot and garnish with cilantro and sesame seeds.
More carrot recipes
Roasted carrots with pine nuts
Honey and chili glazed carrots
Sugared cinnamon carrots