White bean, spinach and chorizo chili
A hearty and simple meal to get on the table, this chili is just a little different from the standard sort.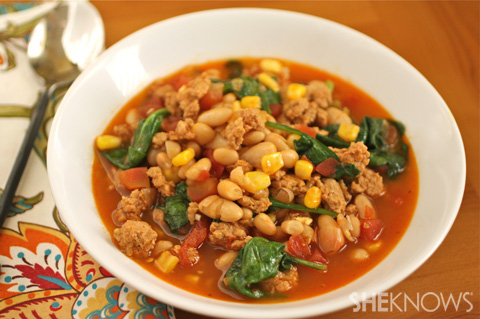 You expect beans in chili, and some spices, too, right? This recipe for white bean, spinach and chorizo chili includes the standard ingredients, but uses chorizo sausage for added flavor. Not only that, but I was able to add spinach to the mix — not really a regular ingredient for chili, but why not? It adds nutrients and a bit of green color to an otherwise monotone dish.
This is a recipe you'll want to keep on hand through the fall and winter. It's comforting and robust, but it's also a breeze to prepare. Perfect for busy weeknights, or even to serve on game day.
White bean, spinach and chorizo chili
Serves 6-8
Ingredients:
1 teaspoon olive oil to drizzle
1 pound ground chorizo sausage
1/4 cup diced onion
2 garlic cloves, minced
2 cans (15 ounces) white beans, drained and rinsed
1 can (14.5 ounces) diced tomatoes with green chiles
1/3 cup corn kernels
3 cups vegetable stock
1/2 teaspoon salt
1/4 teaspoon ground black pepper
1/4 teaspoon ground cumin
1 teaspoon chile powder
2 cups (packed) fresh spinach
Directions:
Add the olive oil to a Dutch oven over medium heat. When the oil gets hot, add the sausage to the pan. Use the back of a large spoon to break it up and cook, stirring, for about 5 minutes, or until it browns.
Add the onion and garlic to the pan and cook for 3 to 4 minutes, then add the beans, tomatoes, corn, vegetable stock, salt, pepper, cumin and chile powder. Stir to combine.
Add the vegetable stock and bring the mixture to a boil. Reduce the heat to simmer and cook, uncovered, for about 15 minutes. Remove from the heat, add the spinach to the mixture, and stir to combine.
Serve hot.
Settle in to a satisfying meal with chili.
More main dish recipes
Easy pork cacciatore
Green bean, corn and tomato salad with creamy avocado dressing
Broccoli, bean and white cheddar-stuffed baked potatoes