Copycat Mellow Mushroom Kosmic Karma Pizza
If you have ever dined at Mellow Mushroom, you know they are famous for their amazing pizzas — my personal favorite being the Kosmic Karma! Loaded with pesto, fresh tomatoes and mozzarella cheese, you can make this easily in your own kitchen.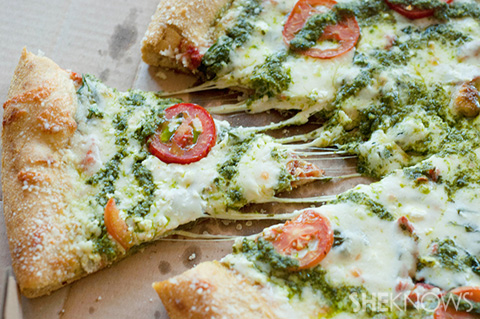 Have you ever eaten at the Mellow Mushroom? They are known for their extensive vegetarian recipes, salads and, of course, pizzas. They also have wonderful and unique beers on tap which to me go great with the pizza! One of my favorite pizzas to order off of their menu is their Kosmic Karma pizza. It's so flavorful, probably one of the most flavorful pizzas I have eaten. It's loaded with three cheeses, fresh tomatoes, spinach and a big swirl of basil pesto. Make this pizza right at home with a few simple ingredients and skip the takeout. This is also a fun and easy recipe to allow your kids to help with. Make pizza night a fun family event for dinner!
Copycat Mellow Mushroom Kosmic Karma pizza recipe
Yields 8 servings
Ingredients:
1 ball fresh store-bought or homemade pizza dough
1/2 cup pizza
4 ounces crumbled feta cheese
4 ounces freshly grated Parmesan cheese
8 ounces freshly grated mozzarella cheese sauce
2 large roma tomatoes, sliced
1 cup fresh baby spinach
1/4 cup sun-dried tomatoes
1/4 cup basil pesto
Directions:
Preheat oven to 400 degrees F and line a pizza pan with parchment paper.
Turn the dough out on a floured surface and roll to about 1/2-inch thickness.
Spread the pizza sauce evenly over the dough leaving a 1-inch border around the edges.
Sprinkle the feta and Parmesan cheese over the entire pizza followed by the mozzarella cheese.
Arrange the sliced tomatoes, fresh spinach and sun-dried tomatoes on the pizza.
Using a spoon or a squeeze bottle, carefully spoon (or squeeze) the pesto in a circular motion on top of the pizza to resemble a spiral effect.
Bake the pizza for 20 to 25 minutes or until the pizza crust is golden brown and the cheeses are completely melted.
Cut into slices and serve warm.
More copycat recipes
Whole Foods California quinoa salad
Taco Bell cantina bowls
Cracker Barrel Hash Brown Casserole