Fried chicken finger burritos with black beans
You get comfort food to the second power with these fried chicken-filled burritos, or you can even call them fried chickenritos.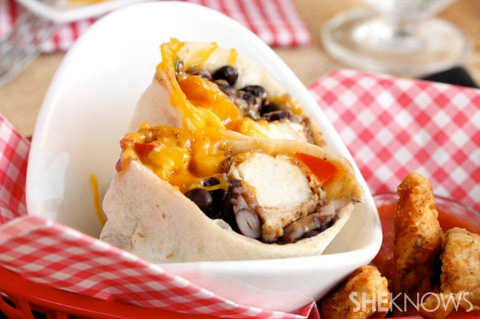 What happens when you mix Southern comfort food with Mexican comfort food? You get a lot of people wanting to come to your place for dinner for a chickenrito that's what. I made a batch of these burritos and ate them for lunch every day for a week. And I never got tired of them. They are that good. They're also wonderful for making ahead of time and warming up in the microwave just before eating them. I do have to warn you though that it's really hard not to snack on the chicken fingers before they go into the burrito. This is why I add another shrimp to the barbie, or in this case, more strips of chicken to the fried chicken pan. Well, it is important for the cook to sample what he/she makes. Don't you think?
Fried chicken finger burritos with black beans recipe
Serves 2
Ingredients:
For the fried chicken fingers
1 boneless, skinless chicken breast, sliced in 4 strips
1/2 cup flour
1/2 teaspoon ground black pepper
1/4 teaspoon salt
1/4 cup canola oil
For the burritos
2 extra-large flour tortillas
2/3 cup strained black beans
2 tablespoons chopped onion
2 tablespoons chopped tomato
Fried chicken fingers
3 tablespoons salsa
1 cup shredded cheddar cheese
Directions:
For the fried chicken fingers
Add the salt and pepper to all sides of the chicken.
Coat all sides of the chicken with flour.
Heat a medium-size pan on medium heat.
Add the canola oil.
Add a pinch of flour in the pan. When it sizzles, add the strips of chicken.
When the bottom sides of each piece of chicken are a golden brown color, turn them over.
Let cook until both sides of the chicken are a golden brown color and the chicken is completely cooked (about 10 minutes).
Remove the chicken from the pan and put on a rack and let cool.
For the burritos
Lay out the black beans in the middle of each tortilla.
Top with onions and tomatoes.
Lay the pieces of fried chicken fingers lengthwise on top of the tomatoes.
Top with the salsa and cheese.
Fold in the right and left sides of the tortilla about 2 inches in toward the middle of the burrito.
Starting from the side of the tortilla closest to you, roll the tortilla to form the burrito.
Warm in a microwave for about 40 seconds or until the desired heat is met.
Serve while warm.
More burrito recipes
Breakfast burrito with sage sausage
Quesarito recipes
Burrito enchilada