Modern Mom: 10 Best foods to eat when pregnant
With so many rules and recommendations on what to eat and what to avoid when pregnant, it's easy to get confused and just throw in the towel. When it comes to your baby's health, though, there are certain foods that nourish your baby's developing brain more than others.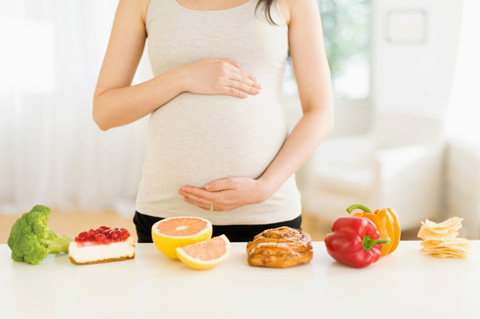 Photo Credit:JGI/Tom Grill/Blend Images/Getty Images
Broccoli
Broccoli is both a great source of calcium and vitamin B6. It helps your body absorb iron and can satisfy your craving for something crunchy. Top fresh broccoli with a few tablespoons of olive oil, balsamic vinegar and brown sugar, mix well and add in some chopped garlic, then bake at 400 degrees F for 15 minutes.
Bananas
Bananas are rich in potassium, vitamin C and fiber, all essential for a growing fetus. If you're in your first trimester, try eating one for breakfast as they've been known to help with morning sickness.
Lentils
Folic acid is important in pregnancy for preventing birth defects of the spinal cord and brain. One serving of lentils contains nearly 50 percent of the recommended daily intake.
Eggs
With both of my pregnancies I had a huge aversion to meat. Knowing that I still needed to get my protein, I turned to eggs. With six grams of protein per egg, they help you get a jump-start on the daily recommended requirement of 70 grams. Eggs also help promote the baby's growth and brain health.
Asparagus
Another food loaded with folate and vitamins A, C, E and K is asparagus. Bake it in the oven sprinkled with Parmesan cheese, saute it on the stove with a bit of olive oil or grill it on the patio with salmon. Asparagus is also good for the brain, so eat up!
Sweet potatoes
Sweet potatoes are great as a mid-afternoon snack or served with baked chicken for dinner. You can eat them as-is or top with brown sugar, cinnamon and butter. Sweet potatoes are rich in vitamin A, folate, fiber and vitamin C — all vital for both mommy and baby.
Avocados
Avocados have the good fats you need during pregnancy. Also packed with folate, vitamin K and vitamin C, avocados help your developing baby's brain and tissues. Toss in a salad, blend in a smoothie or eat as-is topped with a dash of salt and pepper.
Almonds
Almonds are a good source of protein and iron, both vital nutrients during pregnancy. They also contain folate, so grab yourself a handful or two in the afternoon. If raw almonds aren't your thing, give almond butter a try.
Sunflower seeds
Sunflower seeds are another food rich in folic acid. We love them because they can easily be added to soups, salads and cereals without providing too strong of a flavor or being too filling. Toss a handful into one meal each day!
Greek yogurt
We all know calcium is good for the bones, and if you don't get enough, your bones will start to weaken and your baby may not get the required amount. Greek yogurt is a great source of calcium, plus it provides twice the amount of protein as regular yogurt.
If you're pregnant, the best thing you can do for your baby is to take care of yourself. Eat healthy, get some exercise, make sure you're getting enough sleep and try to live as stress-free as possible.
More Modern Mom
Modern Mom: The importance of vitamin A for your kids
Modern Mom: Teaching kids table manners
Modern Mom: 10 Heart-healthy foods for kids