Triple cheese skillet lasagna
Tomato sauce, pasta and three types of cheeses are transformed into a lasagna-like dish right on the stove top.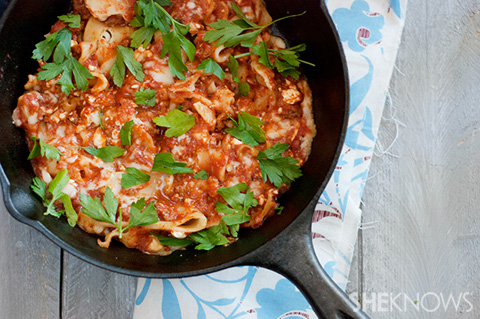 I love making lasagna but what I don't enjoy is the length of time it can take to make it from scratch. This version takes all the classic lasagna flavors but rather than cooking it in the oven you make this right on the stove top for this tasty one-pot dinner. While this version uses sweet Italian sausage you can certainly replace that with any other meat such as beef, turkey and pork or just keep it meat free.
Triple cheese skillet lasagna recipe
Yields 6 servings
Ingredients:
2 tablespoons olive oil
1 ground sweet Italian sausage
1 small sweet onion, minced
3 cloves garlic, minced
1-1/2 cups any type of small-sized pasta (bow ties, penne, macaroni, etc.)
3/4 cup water
1 tablespoon dried Italian seasoning
1 (14 ounce) jar favorite tomato pasta sauce
3/4 cup shredded mozzarella cheese
1/2 cup shredded Parmesan cheese
1/2 cup ricotta cheese
Fresh parsley for garnish (optional)
Directions:
Heat a large skillet or pot over medium heat. Add the olive oil and sausage cooking until the sausage is no longer pink (about 4 to 5 minutes).
To the pan add the onions, garlic, pasta, water, seasoning and tomato sauce. Bring to a simmer and cover. Reduce the heat to low and cook for 15 minutes stirring occasionally.
Right before serving add the cheeses to the pot and stir to allow the cheese to melt.
Divide between bowls or plates and serve warm.
More skillet recipes
Beef orzo skillet
Skillet cheesy chicken bacon taco dip
Skillet biscuits and gravy