Bacon and egg pie
Bacon and egg pie is a fun, fresh take on the traditional quiche. Make the pie crust out of your favorite bread, then fill with a flavorful egg and bacon filling. Looking to add veggies to the meal? Steamed broccoli, asparagus or mushrooms are always a great addition.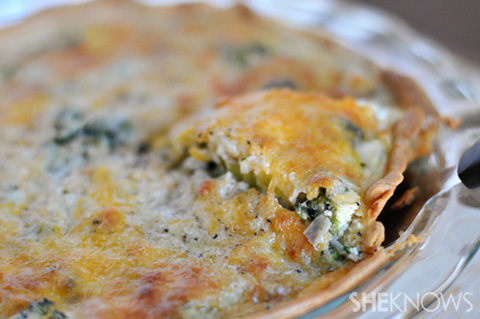 Bacon and egg pie
Makes 1 (9-inch) pie
Ingredients:
6-7 slices bread, crust removed
12 slices bacon, fried and crumbled
1 cup cheddar cheese
4 whole large eggs
1 cup milk
1 cup half and half
3/4 teaspoon salt
1/4 teaspoon sugar
1/2 teaspoon cayenne pepper
1 cup steamed chopped vegetables of choice (optional)
Directions:
Preheat oven to 425 degrees F.
Using a rolling pin, roll out each slice of bread until very thin.
In a 9-inch round pie dish, press the rolled-out bread into a crust, cutting the edges so that it creates a flat crust around the edge.
In a bowl, whisk together the eggs, milk, half and half, salt, sugar and cayenne pepper until smooth and creamy.
Sprinkle the crust evenly with the bacon.
Make another even layer with the vegetables, if using.
Sprinkle that layer evenly with the cheese.
Drizzle the egg mixture evenly over the ingredients on the bottom, jiggling the dish to release any air bubbles.
Bake at 425 degrees F for 15 minutes, then reduce heat to 300 degrees F and bake an additional 30 minutes, or until a knife inserted comes out clean.
Let cool at least 10 minutes before serving.
Serve warm or at room temperature.
More amazing quiche recipes
Salmon, asparagus and Brie quiche
Zucchini quiche
Artichoke quiche