Sweet potato chili cheese fries
Keep dinner on a healthy note with these baked sweet potato fries slathered in homemade chili and cheese.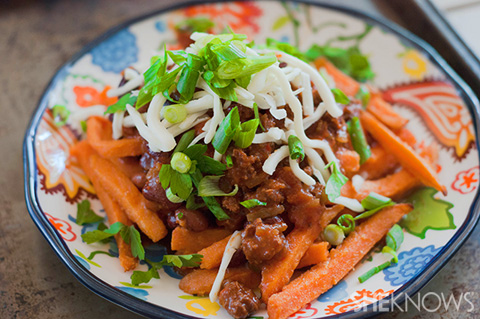 If you or anyone in your family is a fan of chili cheese fries just wait until they taste this healthier version. I used fresh sweet potatoes and sliced them into strips, tossed them in a little olive oil and baked them until they got nice and crispy. I topped these spuds off with a simple homemade chili (but you can certainly use any canned or store-bought version if you so desire) and a nice sprinkle of shredded Monterey Jack cheese.
Sweet potato chili cheese fries recipe
Yields 8 servings
Ingredients:
For the chili
1 tablespoon olive oil
1 pound lean ground turkey, beef or chicken
2 (14.5 ounce) cans fire roasted diced tomatoes or regular diced tomatoes
1 small sweet onion, diced
4 garlic cloves, minced
1-1/2 tablespoons chili powder
1 teaspoon crushed red pepper
1 teaspoon sweet paprika
1 tablespoon cumin
1/2 teaspoon cinnamon
For the fries
5-6 large sweet potatoes
2-3 tablespoons extra virgin olive oil
1/2 teaspoon sea salt
For the toppings
1-1/2 cups shredded Monterey Jack cheese
Thinly sliced green onions as garnish
Directions:
Preheat oven to 400 degrees F and line a large baking sheet with parchment paper.
Heat a large pot over medium heat and add the olive oil and ground turkey (beef or chicken) cooking until the meat is no longer pink. Drain and return to heat.
To the turkey add the onions and garlic cooking until they have softened about 3-4 minutes.
Add the remaining chili ingredients to the pot and stir. Cover the pot and simmer on medium-low heat for about 25 minutes.
Cut each of the sweet potatoes into desired size french fries (note thicker fries will take longer to bake) and place in a large bowl.
Toss the fries with the olive oil and salt and spread in an even layer on the baking sheet. Bake for about 30 minutes or until the fries are crispy.
Once the fries are baked, divide them between dinner plates. Top with warm chili, shredded Monterey Jack cheese and thin sliced green onions. Best served warm.
More recipes using sweet potatoes
Sweet potato ham hash
Quinoa sweet potato burgers
Grilled romaine and sweet potato salad