Chewy white chocolate chunk and tart cherry cookie bars
Chunks of white chocolate and tart cherries are best friends in these cookie bars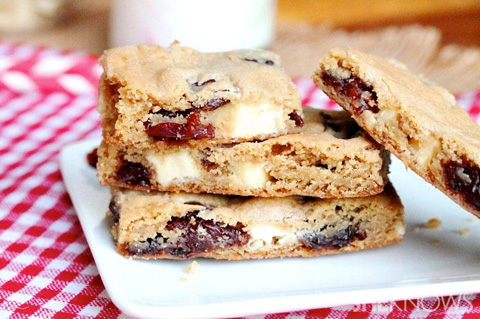 Making cookies can sometimes drag on when you have to keep dropping cookie dough batter onto a cookie sheet and bake them in batches. I can remember many a late night waiting for batches of cookies to get done baking until I could finally go to bed. Sound familiar? Alas, a quick way to bake cookies in only one batch. Just put all of the cookie dough on a cookie sheet and you're almost done. Bake, cut them into squares and eat away.
Chewy white chocolate chunk and tart cherry cookie bars recipe
Ingredients:
1/2 cup butter (1 stick)
1/2 cup sugar
1/2 cup brown sugar
1 egg
1-1/4 teaspoons vanilla extract
1-1/4 cups flour
1/2 teaspoon salt
3/4 teaspoon baking soda
1 cup dried tart cherries
1 box premium white baking chocolate (4 ounce box), cut into 1/2-inch pieces
2 teaspoons butter (for greasing the cookie sheet)
9 x 12-inch baking sheet with sides
Directions:
Preheat oven to 350 degrees F.
In a large mixing bowl, add the butter, sugar, brown sugar, egg and vanilla extract. Cream until light and fluffy.
Turn the mixer speed to low and slowly add the flour, salt and baking soda. Once incorporated, turn the mixer to a higher speed until a dough forms.
Using a spatula or large spoon, stir in the dried cherries and pieces of white chocolate.
Grease the baking sheet with butter.
Add all of the cookie dough onto the baking sheet. Using a rubber spatula, gently spread the cookie dough out evenly over the entire bottom of the baking sheet. Run the spatula over the dough by the edges of the cookie sheet so that the dough sits a slight bit lower by the edges than it does in the middle of the pan.
Bake in a preheated oven for about 15 to 17 minutes. Remove the pan from the oven when the dough in the middle of the pan is still slightly soft.
Let the pan sit on a cookie rack to cool. It should continue to cook a bit more in the middle of the pan from the residual heat.
After about an hour, use a large pizza cutter or knife to cut the cookie into bars.
Carefully remove the cookie bars from the pan onto a rack to cool further.
More white chocolate cookie recipes
Pumpkin white chocolate chip cookies
White chocolate coconut cookies
Cranberry and white chocolate cookies