Dinner Shortcuts: Pizzadilla (pizza quesadilla)
This is all about pizza in quesadilla form. Quick and easy.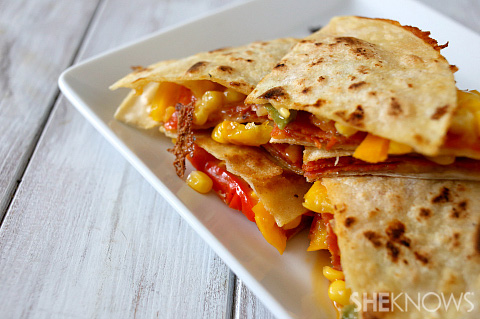 Quesadillas are my go-to "I'm hungry I need food right now" meals. They can easily be stuffed with anything I want and are ready in under 10 minutes. This version is pizza-meets-Southwest flavors. It's stuffed with cheese, pepperoni and spiced sweet corn and bell peppers. This is one hearty meal.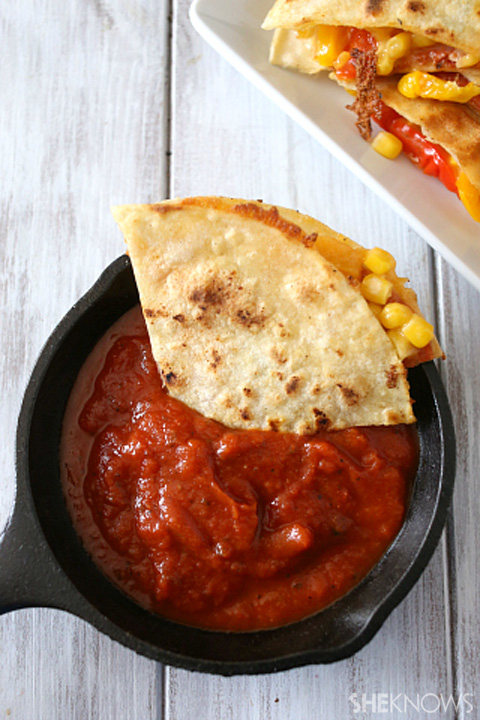 Pizzadilla (pizza quesadilla)
Yields 1
Ingredients:
2 tablespoons olive oil, divided
1/3 cup sliced bell peppers (any color)
1/4 cup sweet corn kernels
1/2 teaspoon smoked paprika
1/4 teaspoon chipotle chile powder
2 corn tortillas
1/2 cup shredded cheese
3 large pepperoni slices
1/3 cup marinara sauce, warmed
Directions:
In a small skillet set over medium heat, add 1 tablespoon olive oil. Once the oil is hot add the bell peppers, sweet corn kernels, smoked paprika and chipotle chile powder. Cook until just softened and remove from the heat.
Lay out 1 corn tortilla and cover with 1/4 cup shredded cheese, top with pepper/corn mixtures, pepperoni, remaining shredded cheese and other corn tortilla.
Drizzle a little more olive oil in the pan and place back on the stove over medium heat. Once the oil is hot, add the quesadilla.
Cook until the underside is browned and cheese has started to melt within the quesadilla. Flip and cook until browned on the other side.
Serve with warmed marinara sauce.
More Dinner Shortcuts recipes
Taco pizza
Cheeseburger biscuit pizza
Beef taco skillet supper